Four Seasons Hotel Los Angeles at Beverly Hills has launched new Wellness Rooms, in partnership with Delos, with the creation of five wellness-themed guest rooms and two suites that aim to optimise guests' physical and emotional well-being while travelling.
Located on the fourth floor Spa level, the Wellness accommodations combine the latest technologies from Delos with a stylish new room design and eco chic features.
Upon arrival, guests will have access to Wellness by Delos room features and programs, including sleep, stress and nutrition programs from the Cleveland Clinic, GoWell! nutritious menu options endorsed and approved by Cleveland Clinic, and guided mediations by Deepak Chopra, MD.
"Located in the health-conscious mecca of Los Angeles, our guests of Four Seasons Hotel Los Angeles at Beverly Hills place a big priority on wellness to stay fit and healthy while travelling, especially with today's hectic pace," says Michael Newcombe, Four Seasons Hotel Los Angeles at Beverly Hills General Manager and Chair of the company's Global Spa and Wellness Task Force.
"We are continually looking to evolve the guest experience to deliver products and experiences that resonate with our guests, and this is the perfect hotel to launch a room product dedicated to supporting a wellness-based lifestyle while on the road."
The new Wellness Rooms are the latest innovation for health-conscious travellers at Four Seasons Hotel Los Angeles at Beverly Hills, which already offers personalised in-room fitness programs and healthy menu options in all its restaurants and bars.
The Hotel is also a leader in promoting Global Wellness Day, an annual celebration of holistic health, fitness and wellness.
FOUR SEASONS WELLNESS ROOMS
As part of a hotel-wide refreshment of all guest rooms and suites, seven accommodations have been specially enhanced with the health-conscious traveler in mind.
Key highlights of the rooms include:
In-room amenities: In addition to the thoughtful features found in all Four Seasons rooms and suites, Wellness Rooms also offer exercise equipment, Alo Yoga mats, nutritious snacks in the mini-bar, natural toiletry amenities from LATHER, and meditation videos by Deepak Chopra.
Circadian lighting: The circadian lighting in the rooms by Delos is controlled by a Mood Box, and has been engineered to simulate the colour temperature and intensity of natural outdoor light, working to energise the body during the day and enhance sleep quality at night. The Energising light produces a bright, white light with a strong blue component designed to suppress melatonin, a hormone that regulates sleep. The Relax setting creates long wavelength night lighting with a soft, amber tone, allowing guests to prepare for rest and sleep. This feature also allows guests to safely navigate the room at night while minimising sleep disruption, and preserving melatonin production. The Play setting gently cycles between a range of colourful hues from magentas to pastel pinks.
Air and water quality: The state-of-the-art air purification system reduces allergens, toxins and microbes, invisible to the human eye, and supports restful sleep. The dechlorinator, located in the shower, serves to reduce chlorine from the water.
In Room Dining: Four Seasons Executive Chef Byron Thomas has created an exclusive, healthy in-room dining menu, with numerous menu choices approved by the Cleveland Clinic, which are denoted by the GO!Well seal. Menu items include an antioxidant salad; avocado and pistachio dumplings; poblano and portobello tacos; falafel salad bowl; and seared salmon. All menu items described are available to guests through in-room dining.
Spa privileges: To incorporate the rejuvenating spa experience, guests of the Wellness Rooms can enjoy an 80-minute massage for the price of a 50-minute treatment at Four Seasons Los Angeles. The Spa and rooftop outdoor pool are located just down the hall from the Wellness Rooms on the fourth floor. The Spa at Four Seasons Los Angeles features innovative spa treatments, including the Hotel's new Surrender Massage, which was created in collaboration with the Spa's massage therapists, as well as organic facials, BioMeditation energy treatments, and the upcoming JetSet Refresh Facial, which will be launching by Awards Season in January 2018. The Spa also has a beautiful Nail Suite, steam and sauna rooms, and a relaxation lounge.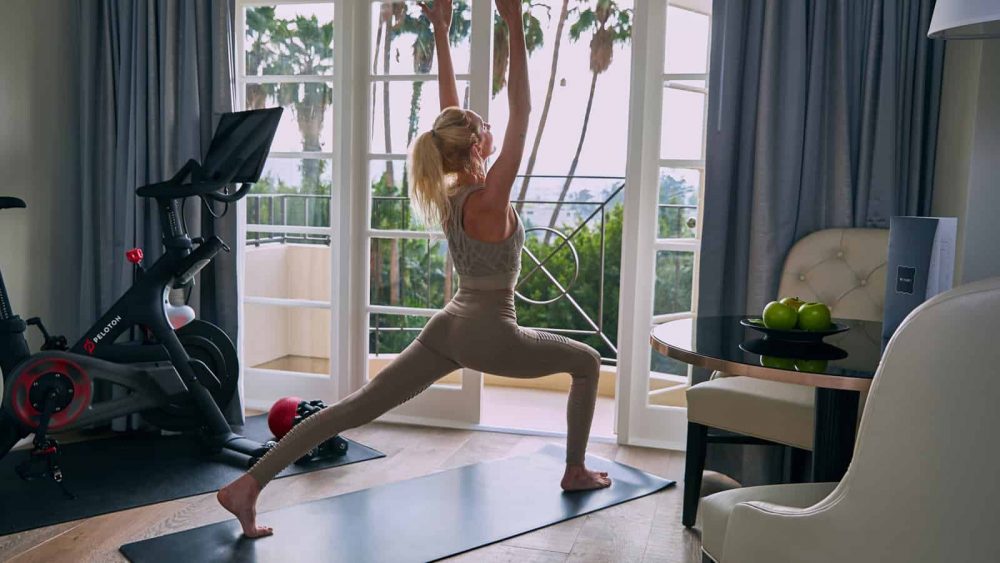 WELLNESS AT FOUR SEASONS
A number of Four Seasons hotels and resorts around the world offer uniquely tailored wellness programming, often inspired by their locale.
These include best-in-class dining options, in-house wellness consultants, meditation sessions and extensive fitness classes and facilities, and bespoke spas designed to help guests achieve balance and overall wellness.
"Authenticity and service have always been fundamental to the Four Seasons guest experience," says Newcombe.
"Many of our spas tap into the wealth of local wellness knowledge that each destination offers – including here in Southern California – as well as the latest advancements from around the world. Holistic lifestyle and wellness experiences extend beyond the spa to our restaurants, recreation programs, and now, the new Wellness Rooms at Four Seasons Hotel Los Angeles at Beverly Hills," he says.
300 S Doheny Dr, Los Angeles, CA 90048, USA. Tel: +1 310-273-2222.