From Pixel phones to earbuds, speakers and Chromecast, Google has released some brilliant products in recent years and one of the most exciting has been Nest Wifi, which can give your home's signal a massive boost. To find out more, here's the low-down from Google Nest Product Manager, Sanjay Noronha.
Homes weren't built for WiFi, so when we introduced Google Wifi in 2016, we built WiFi to work for anyone, in any home. With Nest Wifi, we're taking everything you love about Google Wifi and making it even better, with a powerful router and a Wifi point that includes the Google Assistant, bringing you more help at home.
The Nest Wifi system is actually two separate devices: The Nest Wifi router plugs directly into your modem, forming the basis for a strong and powerful home network, and the Nest Wifi point expands your coverage where you need it most.
Nest Wifi is more powerful than Google Wifi, delivering up to two times the speed and up to 25 percent better coverage. A 2-pack Nest Wifi router and point is great for most 1-2 bedroom homes while the 3-pack can cover most 2-3 bedroom homes.
The system is scalable, so you can add more points later to make sure you're covered. And if you've already got a Google Wifi network, you can easily add Nest Wifi to it for additional coverage.
SIMPLE SET UP AND CONTROL IN THE GOOGLE HOME APP
Setting up Nest Wifi is easy. Plug it in and download and open the Google Home app, which will guide you through setup in minutes. Once you're set up, you can manage your network in the app alongside your other supported connected devices.
The app makes it easy to share your WiFi password with guests, prioritise devices (like when you're on a video call), test the speed of your network, set up a guest network or change your password. Plus, if you have a Nest smart display like the Nest Hub Max, you can share the guest network and password right on the display—and scan the code with your phone to get online.
You can also manage separate homes in the app. I'm the tech expert in my family, so with their permission, I also manage my parents' network. This way, when I get a call that the WiFi isn't working, I can quickly check what's wrong or let them know if they need to call their internet provider.
My sons are in middle and high school, so while I want them to go offline at certain times during the week, I don't mind if they stay up later on weekends, playing video games or streaming their favourite shows. With Family WiFi features in the Google Home app, I can easily set my sons' devices on a WiFi schedule, pause the WiFi to their devices at any time and block adult content on their devices.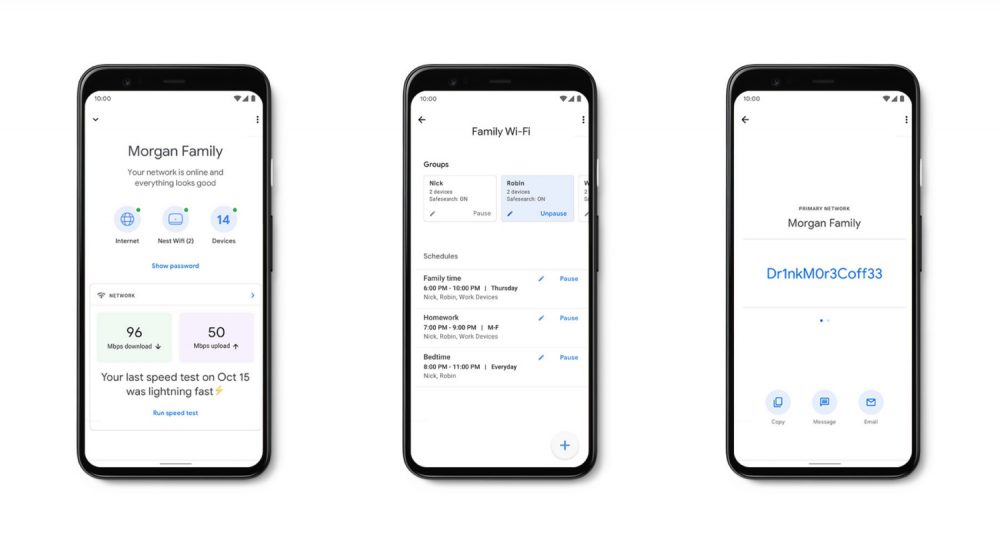 HANDS-FREE HELP WITH GOOGLE ASSISTANT
The Nest Wifi point also has a speaker with the Google Assistant, which means it can do everything that Nest Mini can do; it's really two devices in one. We've even incorporated the same speaker as Nest Mini, so you can add it to a speaker group and rock out to your favourite playlist throughout the house.
And if you're like me and sometimes have trouble getting your kids' attention, just say "Hey Google, pause the Wi-Fi for Dylan's device." You can also use the Assistant to get more info about your Wi-Fi network. Just say, "Hey Google, what's my internet speed?"
DESIGNED FOR YOUR HOME
Many routers are hidden in a closet or cabinet, where the signal is blocked and can be reduced. Nest Wifi has a beautiful design with soft, rounded edges and unobtrusive lighting. It's meant to be placed out in the open, where it'll perform at its best and will naturally blend into your home.
Nest Wifi is built using sustainable materials. The router enclosure is made from 45 percent post-consumer recycled plastic, and the point enclosure is made from 40 percent post-consumer recycled plastic.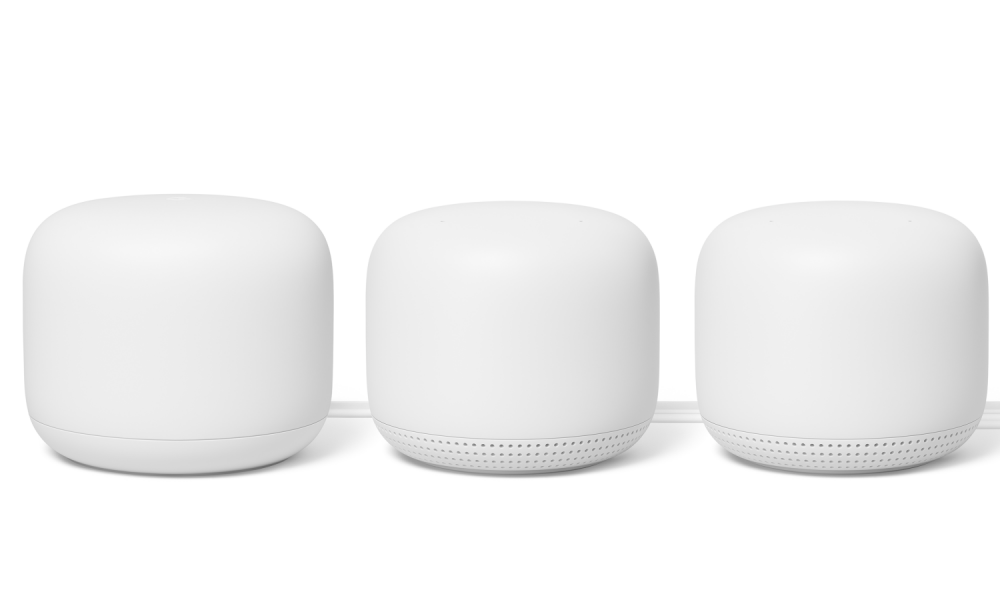 SMART HOME SUPPORT
We also built the Nest Wifi system to provide the foundation for your future smart home devices. It has local home connectivity, which means that some devices can connect directly to the system without needing a hub, so you can easily set up the most popular lights and plugs right from the Home app.
PEACE OF MIND
Nest Wifi has been designed with your privacy in mind and per our privacy commitments, there's a switch for you to disable the mic on the WiFi points. You can also access, review and delete your queries at any time via My Activity.
With Nest Wifi, you'll also never have to worry about whether or not your router is up to date. We automatically push security and performance updates to your Nest Wifi devices, to help keep your network safe and working at its best.
WHERE TO BUY
Nest Wifi is available as a two-pack with one router and one point for AU$399, or a three-pack with one router and two points for AU$549 at the Google Store, JB Hi-Fi, Harvey Norman, The Good Guys and more retailers.