Malaysia Airlines has introduced a broad range of Malaysian dishes in-line with its 'Best of Malaysia' series, which is progressively being rolled out across the network.
The new inflight dining menu offers its passengers the opportunity to experience the traditional flavours and mouth-watering cuisine for which Malaysia is rightly famous.
The chefs from Malaysia Airlines worked closely with customer experience and catering units to create a menu that "better reflected passenger preferences", according to the airline.
Malaysia Airlines says it was also imperative to "work with suppliers to ensure high quality and seasonal ingredients are utilised throughout to reflect the best flavours possible".
Business Class guests will be treated to Malaysia's unique Banana Leaf Fish Curry on selected flights from Kuala Lumpur to Australia. The new in-flight menu will also offer delicious Nasi Lemak that will be available throughout all breakfast menus from Australia to Kuala Lumpur in all classes.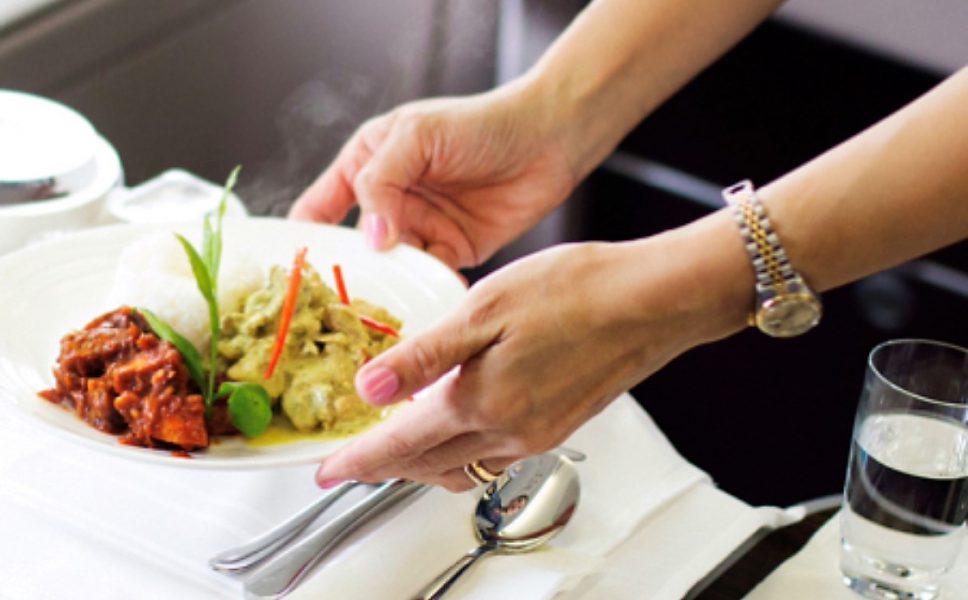 Malaysia Airlines' delicious Ayam Masak Lemak and (top) satay skewers in Business Class
Customers will also be able to enjoy other well-loved Malaysian favourites like Satay Chicken, Hainanese Chicken Rice, Beef Rendang, Fried Hokkien Noodles with Sambal and Roti Canai with Dhal Curry in the coming months.
Along with the meals, Malaysia Airlines offers a selection of premium wines including:
• Joseph Drouhin Côte de Beaune 2015, Burgundy, France;
• Palliser Estate Chardonnay 2016, Martinborough, New Zealand;
and
• Tattinger Comtes de Champagne, Blanc de Blancs 2007, France
Malaysia Airlines' Group Chief Marketing and Customer Experience Officer Lau Yin May said: "We are thrilled by the positive feedback we received from travellers around the world on the local favourites that we have introduced onboard Malaysia Airlines' flights.
"As part of its Malaysian Hospitality, the airline is pleased to offer our Best of Malaysia culinary series, which continuously evolves with more Malaysian Heritage dishes being introduced and served onboard as well as at our lounges."
The revamped inflight menu complements Malaysia Airlines' exclusive Laksa Bar in its Golden Lounge at Kuala Lumpur International Airport, which is a long-standing favourite with Lounge patrons.