St. Regis Hotels and Resorts is heading Down Under following the signing of The St. Regis Melbourne, marking the first hotel in Australia for the renowned luxury brand.
Owned by Century Group Aus, this new-build hotel is slated to open in 2022 and will be located in the heart of Melbourne amidst distinct architecture and a dynamic arts scene.
"Melbourne's vibrant mix of world-class dining, art galleries and rich history makes it an ideal destination for the debut of the iconic St. Regis brand in Australia," said Lisa Holladay, Global Brand Leader, St. Regis Hotels & Resorts.
"We are delighted to be working with Century Group Aus to open The St. Regis Melbourne and offer our guests impeccable service and exquisite experiences in Australia."
Located in the luxury mixed-use precinct Flinders Bank on the corner of Spencer and Flinders Streets, the new St. Regis Melbourne will serve as a landmark gateway to the city's bustling Central Business District.
Guests will also be within walking distance of Collins Street, known for its historic Victorian architecture, prestigious boutiques and high-end retailers, as well as the Melbourne Convention and Exhibition Centre.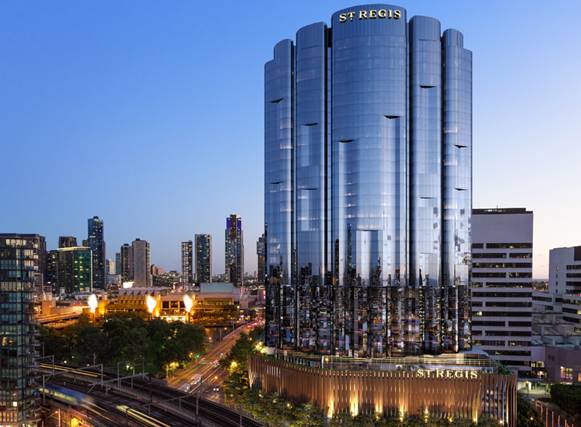 "We are honoured to be bringing this iconic brand to Australia," said Connie Wu, Executive Director of Century Group Aus. "From the outset, we knew we wanted to create a hotel for today's discerning and sophisticated traveller and the St. Regis brand's timeless, tasteful and luxurious offering is the perfect fit. We are confident this hotel will become an architectural benchmark in the region and the jewel in the crown at Flinders Bank."
The 33-storey Flinders Bank will house the St. Regis Melbourne across levels 2 to 11 and include 168 luxuriously appointed guestrooms and suites, all of which will offer sweeping views of the Yarra River or city skyline.
With interiors created by world-leading interior design studio, Chada, and the building designed by Fender Katsalidis Architects, The St. Regis Melbourne will be an instant icon and stylish addition to the city's skyline.
Refined food and beverage offerings will include a specialty restaurant in addition to a sophisticated Drawing Room space and the St. Regis Bar, which will serve up the local rendition of the brand's signature cocktail, the Bloody Mary. Guests will also be able to immerse themselves in unparalleled leisure facilities, such as a fitness and wellness centre with a 25-metre indoor swimming pool and an exceptional Iridium Spa and beauty salon.
Guests of The St. Regis Melbourne will also experience the renowned hallmarks of the St. Regis brand, including the legendary St. Regis Butler Service that personalises each stay according to guests' unique tastes and preferences. The hotel will also be an ideal setting for exclusive corporate gatherings, special events and weddings.