Dorchester Collection's luxurious Le Meurice hotel in Paris has unveiled 29 newly-restored rooms and suites including a spectacular penthouse suite, and begins an exciting new chapter in its rich history inspired by its artists and thinkers.
Combining 18th century opulence with contemporary chic, Le Meurice is a living and ever-changing canvas. Dating back to 1835, this unique hotel embodies the perfect French palace hotel.
The scene is set by an enviable location in the heart of Paris, opposite the world-famous Tuileries Garden and overlooking all the major city landmarks. Step inside and discover the many reasons why this has long been the chosen place for great artists and thinkers, from Salvador Dali and Pablo Picasso to Woody Allen and Jay-Z.
Art is a universal language at Le Meurice, something that sparks interest at every turn. Wit and charm is captured in the eye-catching interiors of Philippe Starck and Charles Jouffre. Cuisine takes an artful turn too in the form of a two Michelin-starred Alain Ducasse restaurant and the 'World's Best Pastry Chef', Cedric Grolet.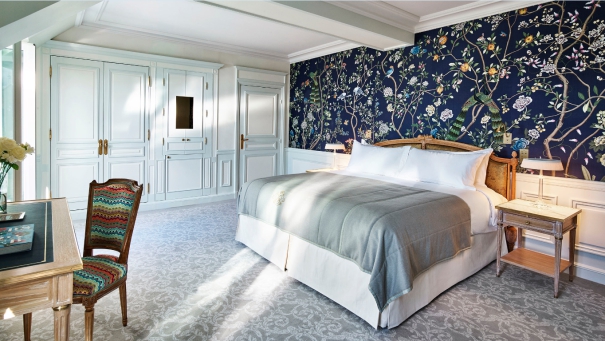 A total of 29 rooms and suites from the third to sixth floor, all with exceptional panoramic views, have been artfully restored. Charles Jouffre, Le Meurice's interior designer of ten years and creator of the sumptuous drapes at the Opera Garnier, invited two young designers, Margaux Lally and Luc Berger of interior design studio Lally & Berger, to mastermind the new vision. Known for their great passion for French craftsmanship, the duo has already created the hotel's sublime Pompadour Suite, which is as avant-garde and beautiful as the Marquise de Pompadour herself.
The latest rooms and suites offer a completely fresh perspective and are a celebration of Le Meurice's true spirit. The designers considered what a modern-day Versailles would look like if it was built now and used this as their underlying theme. Bringing with them a certain 'Je ne sais quoi' that's both elegant and audacious, the designers have created a series of lighter and brighter spaces, decorated with a tactile array of the finest French fabrics including silk, damask and velvet, alongside bespoke furniture and well-thought out artworks relating to the history of Paris and Le Meurice.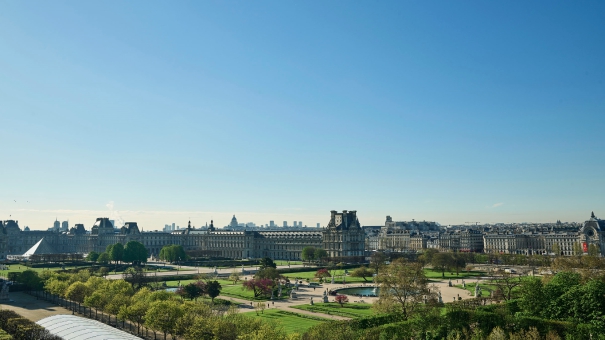 "Our aim was to stay true to the spirit of 18th-century French design and the rich history of Le Meurice," said Le Meurice General Manager, Franka Holtmann. "We wanted an elegant look with just the right touch of modernity to appeal to today's travellers.
"The project was guided by the idea of luxurious comfort and a sense of wellbeing, paired with intuitive technology, authentic art and a play of light with shimmering fabrics. We invite guests to enjoy all these exceptional details and take a fresh look at nearly 200 years of history," Holtmann said.
All of the newly-restored suites give you the whole of Paris within one enchanted gaze. Each enjoys its own unique view out across the world-famous and incredibly beautiful Tuileries Garden, the Louvre, Eiffel Tower, Notre Dame, Les Invalides, Arc de Triomphe and beyond. You'll be in no doubt that you're in the first district of the City of Light, as day turns to night and the landmarks are lit up before your very eyes.