Wyndham Hotels and Resorts has announced La Quinta by Wyndham will launch into the South East Asia and Pacific Rim (SEAPR) region with the signing of two new hotels in New Zealand.
La Quinta by Wyndham, to be known as LQ by Wyndham in the SEAPR region, is a leading upper-midscale brand with over 925 destinations in the Americas and Europe, offering contemporary design, thoughtful amenities and friendly service.
Wyndham acquired La Quinta's hotel franchise and management businesses in 2018, further building upon the company's diverse family of hotel brands and offerings around the world.
The first hotels set to fly the brand's flag in New Zealand will be located in Auckland and Queenstown under a franchise agreement with Safari Group, Wyndham's long-standing partner in the region.
"We are delighted to deepen our relationship the Safari Group and to introduce another sought-after and growing brand to New Zealand, and the SEAPR region," said Wyndham Hotels and Resorts' President and Managing Director – SEAPR, Joon Aun Ooi. "Despite the current situation, we are confident of the tourism momentum in New Zealand and that international travellers will return to seek out the country's natural attractions and stunning scenery.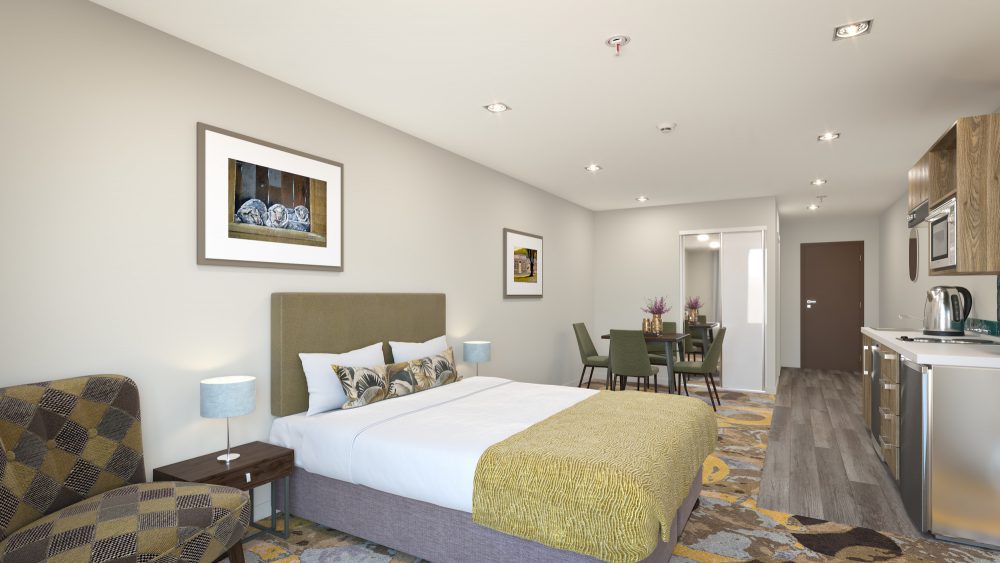 An artist's impression of a guestroom at LQ by Wyndham Remarkables Park in Queenstown
"As visitors return to discover this beautiful country, Wyndham will be there to cater for their needs with a collection of exceptional hotels and resorts in key locations nationwide," he said.
Nestled next to the scenic Kawarau River, not far from Queenstown Airport, the 87-key LQ by Wyndham Remarkables Park, set to open its doors in late 2020, will be a great base for visitors who want to immerse themselves in nature.
Set to open in mid-2022, the 246-key LQ by Wyndham Greenlane Auckland, located on the Great South Road in the city's Ellerslie district, will be conveniently located between Auckland Airport and Auckland CBD, appealing to both leisure and corporate travellers alike.
Both LQ by Wyndham Remarkables Park and LQ by Wyndham Greenlane Auckland will feature a mix of accommodation for short and extended stays, and facilities including fitness centres and 'grab and go' cafés.
In total, Wyndham Hotels & Resorts currently offers 13 hotels and resorts across New Zealand under three of its distinct brands – Wyndham Garden, Ramada by Wyndham, and Days Inn by Wyndham – in sought-after destinations like Auckland, Queenstown, Wellington, Christchurch, Albany, Rotorua, Taipa, Hamilton, and Wanaka.