Celebrating Melbourne's laneway culture, QT Melbourne has its very own late night hot-spot within the hotel offering with Hot Sauce Laneway Bar, and Tanto high-end Japanese knife store opening today.
Hot Sauce, the edgy dinner and late night drinking den cranks up the cool factor with a fusion of Korean and Japanese street food in a vibrant ambience with funky 90's beats, cracking cocktails and a hip hop vibe.
Laneway bars and intimate dining venues are part of Melbourne's genetics, making it the perfect destination and hang-out for both QT Melbourne guests and the urban dwelling crowd.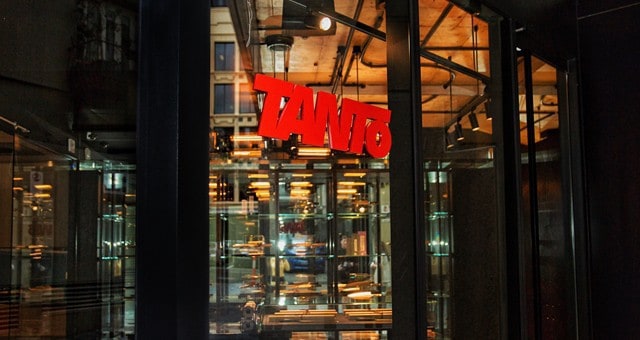 The 60-seat venue is an intimate space lined with bar seating, giving guests a front row show to the magic of playfully artistic bartenders serving Asian-inspired cocktails such as the Umeshu and raspberry-infused Gangnam 64 and the smoky flavours of the Shinshu Julep – Mars Iwai Japanese Whiskey, Shiso Umeshu, Yuzu Bitters and Shiso leaves. Diners will be transported to the bustling bar scene of Asia while sipping on a large selection of Korean and Japanese beer, and rare Japanese liquors.
In true QT style, the share menu is quirky and playful, designed by QT Melbourne's Creative Food Director Rob Marchetti in collaboration with Executive Chef Paul Easson for grazing between drinks or settling into a hefty meal. Diners can relish 'Steam and Stuff Me Baos' to start, including the crispy fried chicken with hot sauce, kimchi and American Yellow Mellow cheese before tucking into a selection of charcoal bites served alongside scissor chopsticks, such as the 'Chicken all Bits',featuring cuts of thigh, breast and bum.
The 'Street' section of the menu offers larger dishes ideal for sharing, with a selection of seafood, vegetarian and meat options. Taiwanese Hot Dog within a Dog is sure to get diners intrigued, served with a crisp sticky rice bun, mustard greens and crisp shallots.
And to finish on a sweet note, a 'Big ass bowl of Asia' gives diners the choice of mango ripple ice-cream with coconut ice and coconut cream or for something a little more heated, tapioca with chilli red beans, coconut sago, shredded coconut, pandanas liquid balls, plum Kelly and sweet corn.
Neighbouring Hot Sauce you will find Tanto knife store, a high-end Japanese knife lovers' paradise with purveyors who will walk you through the intricacies of their wares with passion and precision.
The store sells expertly crafted Suisin knives sourced by 10th generation sword makers from legendary Sakai; the heart and soul of traditional Japanese knife production, and is the place in Melbourne to have your prized possessions expertly sharpened by a Suisin apprentice on hand using rare Japanese knife sharpening equipment and expertise – perfect for Melbourne chefs while they soak up the eclectic ambience at Hot Sauce.
With their razor-sharp edges and unmatched elegance, Japanese knives are some of the best in the world, and in Sakai, craftsmen, or shokunin, have been making them for hundreds of years. Sakai is famously known across Japan as the place shokunin forged katanas for samuari in the 14th century, and these age old practices influence how knives are made today.
The Suisin Collection was born from creator Junro Aoki; the second son of the Aoki Knife Craft family, who created his own cherished knife brand in 1990. During the twenty years he spent learning his craft, the young and energetic knife craftsman dreamed of someday creating knives that would combine the traditional qualities of Sakai-style knife-crafting techniques with more modern designs.
The exclusive Suisin Collection is now available at Tanto; the first of its kind in Australia.
Hot Sauce Laneway Bar and Tanto are two of the many exciting offerings from designer hotel QT Melbourne, with Hot Sauce open six days a week, from Monday to Saturday, 4:30pm – 2am, and Tanto from 10am – 6pm.