Marriott's hyper cool, luxurious Edition hotels brand has made its long-awaited debut in South East Asia this week with the opening of the Singapore Edition.
Masterminded and conceived by the legendary Ian Schrager, in collaboration with interior design firm Cap Atelier, the 204-room hotel is located just off the west end of Singapore's iconic upper Orchard Road.
"It was a thrill for us to do a hotel in Singapore and to come up with a project as sophisticated and beautiful as the city itself," Schrager said.
This once bucolic country lane lined with fruit orchards and pepper and nutmeg plantations is, today, transformed into a heaving stretch of restaurants, tree-shaded boulevards and marbled emporia bustling with bold-faced named fashion and lifestyle brands.
Accessed from Cuscaden Road, the hotel's main entrance with its cobbled stone driveway opens into a private, white-hued oasis that stands singularly apart from the bustle of upper Orchard Road.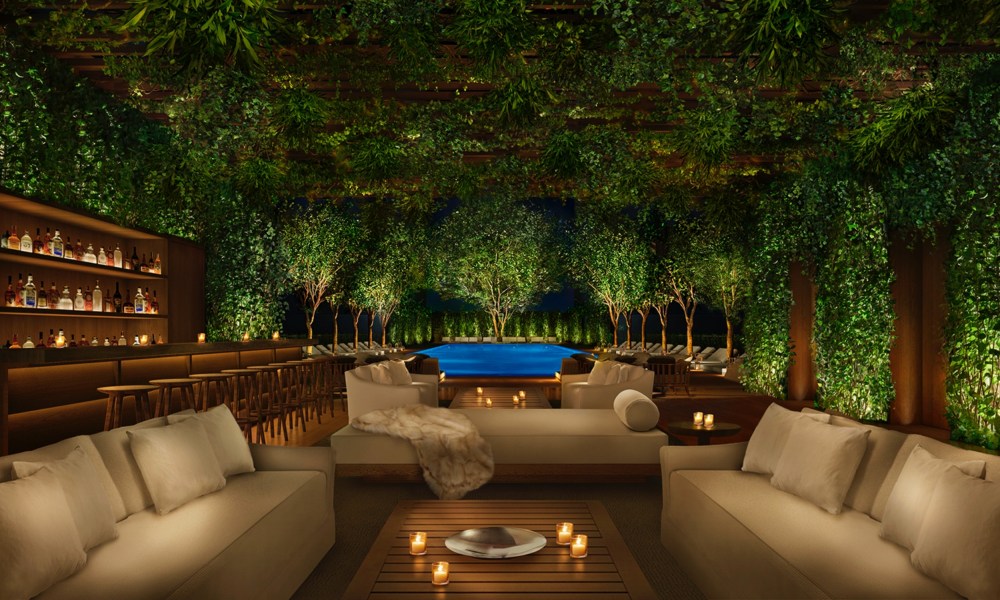 At the core of the architecture and interior design of The Singapore Edition is seamless access to nature with sweeping vistas and greenery integrated throughout, including a skypark and lushly planted, sunken garden that offers a tranquil escape from Singapore's bustling Orchard Road shopping district.
Unfolding like a theatrical play, every level of The Singapore Edition takes on a different personality, offering unique guest experiences.
Each individual element stands on its own but when combined, the sum of these individual parts exceeds its sum, creating an alchemy where magic happens.
The Lobby Bar, for instance, is an eye-popping space sheathed in sharp pink velvet where a rose-colored pool table of Calacutta marble and oversized pink backlit bar display hold center-stage.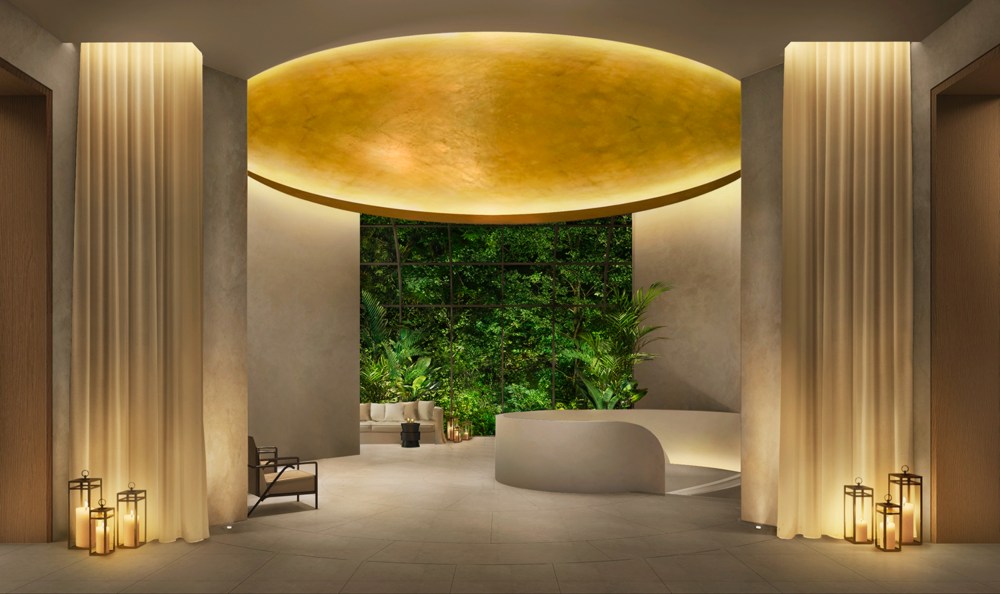 Christian Liaigre doe leather chairs and lamps accent the space, while the bar itself is styled with Lalique-inspired crystal decanters and sculptures.
Flanking the soaring white aerie of the lobby and reception is a high vaulted-ceilinged, timber-lined restaurant spearheaded by Josh Niland.
Aptly named FYSH at Edition, this lofty space is the acclaimed Australian restaurateur and multi-award-winning chef and author's first restaurant outside of Australia, and it features an impressive sustainable seafood-focused steakhouse menu alongside responsibly sourced vegetables and meats.
Anchored by a custom-made marble bar in green scalloped Antico Verde marble, and a large show kitchen, the main dining room seats 80 across intimate jade velvet banquettes and booths with Calacutta white marble tables.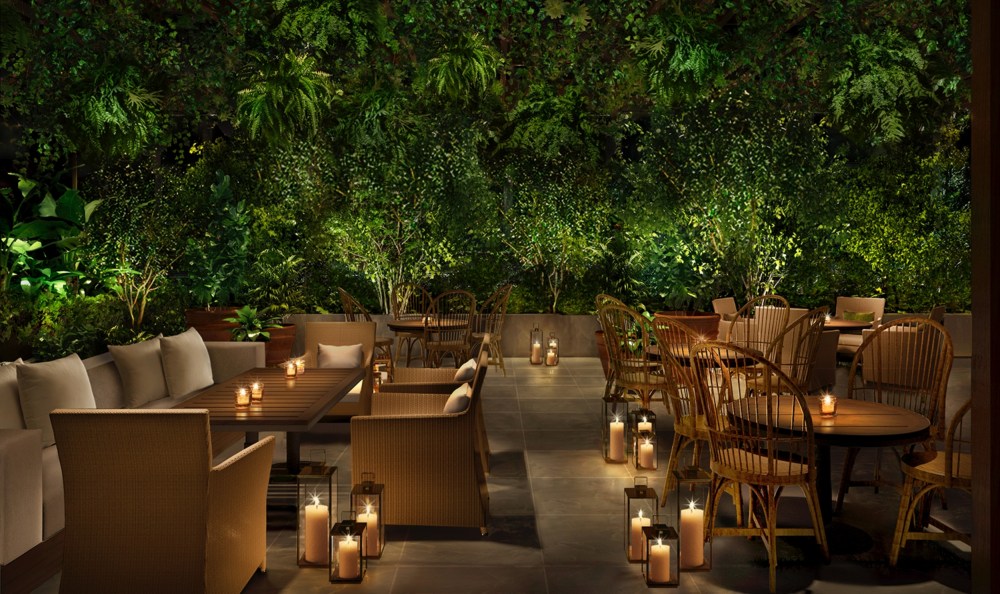 Art works frame the space; with 14-carat gold leaf etching greeting diners at the entrance, while a custom piece by the artist Christian Furr sits over the bar.
A leafy conservatory has capacity for 22; this indoor garden is home to over 300 plants and 162 suspended preserved fern spheres, all born in Southeast Asia. A Luna Alabaster sculpture by Jan Vanderlaan finishes the room. An outdoor pergola provides a perch for a further 44 diners when the cooler tropical evening arrives.
From the lobby, a sculpted, white Venetian plaster staircase spirals elegantly down to the garden courtyard level to a dramatic bar lounge, ideal for a pre-dinner aperitif or a late evening cocktail.
For those wishing to extend the evening's libations, an inconspicuous side-door leads to the adjoining Punch Room – Edition's signature bar concept that is a global brand in itself – where punch is championed as both a cocktail and a lifestyle necessity.
Swathed in a shade of Yves Klein blue, the intimate bar is an indulgent cocoon. Lined with oak panels on the walls and ceilings, a sculptural blue ceiling pendant designed by the Parisian artist Eric Schmitt, and a stone fan-shaped floor mosaic, the space channels the intimate mood of a classic London gentleman's club serving brandy with a modern and deviant approach.
The cosmopolitan vibe is enhanced by a handsome bronze bar behind which the mixologist shakes up a unique punch cocktail menu inspired by Southeast Asian spices and imaginative bar snacks.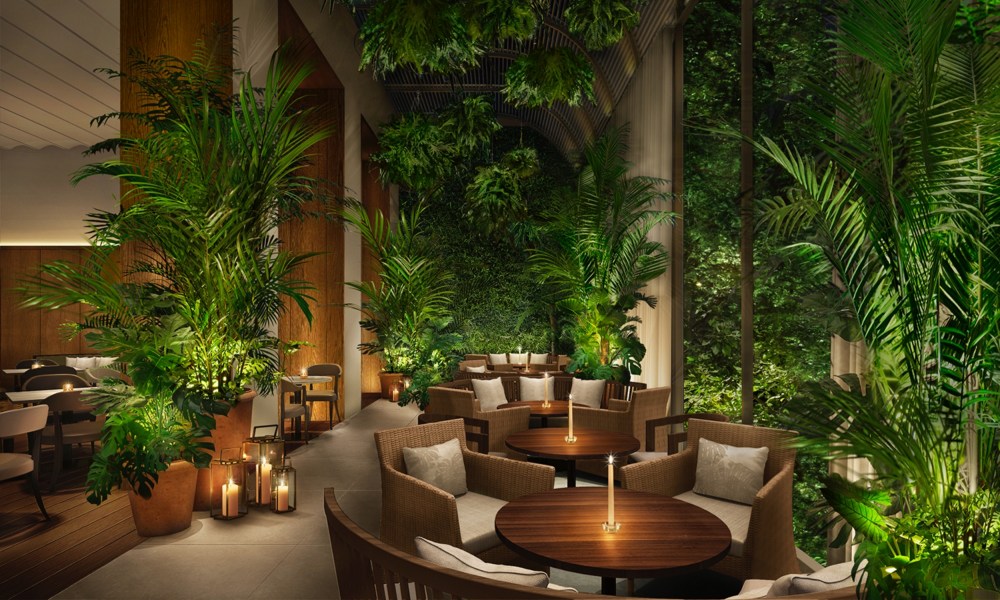 The spacious guest rooms unfold over six light-filled floors. Here, every detail has been designed to ensure that the experience of spending the night or a longer stay is as seamless and soothing as it is sophisticated. Every detail has been considered to ensure a comfortable and serene haven that is both sophisticated and simple, appealing to the in-the-know guest.
In every guest room, warm white rugs clad the customized white oak-planked floors while decorative pots of orchids and thick drapes frame the broad bay windows.
The rooms also feature deep-seated sofas, and hand-sewn damask throws that swathe the beds. Temperatures are kept cool, literally, with layers of curtain sheers, black-out shades, and white exterior louvres that can be electronically adjusted to filter the sun while providing both views and privacy.
In a hotel already filled with so many unforgettable memories, The Singapore Edition saves its bravura moment for the swimming pool and rooftop terrace.
Accessible via The Roof bar, the pool is framed with languid day beds and stretches a full 43-m from tip to tip, seemingly floating like an all-white space vessel over the garden courtyard nine floors below.
Here, vast swathes of stone and landscaping create a relaxed, one-of-a-kind outdoor oasis in the sky; though a further surprise awaits swimmers as they dive in and discover that the pool's white-tiled base is embedded with a transparent acrylic oculus that provides them with surreal views into the garden courtyard far below.
ESSENTIALS: GETTING TO SINGAPORE
The best way of getting to Singapore in comfort and style.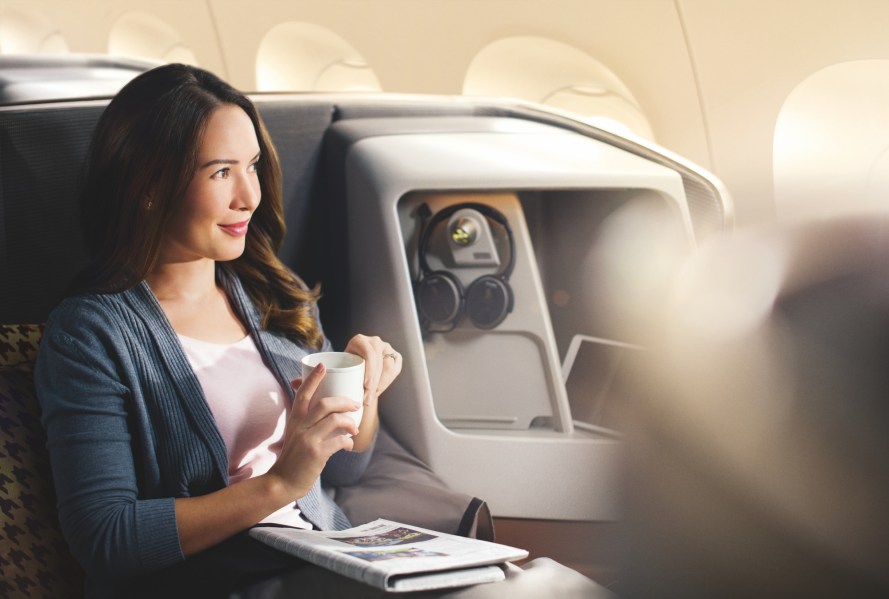 FLY SINGAPORE AIRLINES
Wayfarer recommends flying to Singapore in Business Class on Singapore Airlines, which offers daily flights to city from over 130 destinations around the globe.
Singapore Airlines operates several aircraft types to Singapore, including the Boeing 777-300ER, the Airbus A350-900 and the Airbus A380-800.
On the B777 and A350, the signature Business Class seats offer two new seating positions, the Lazy Z, a cradling position that ensures your weight is centered and balanced when you're sitting down, and the Sundeck, a lounging position that extends the base and foot of your seat so you can stretch and rest your legs on the ottoman.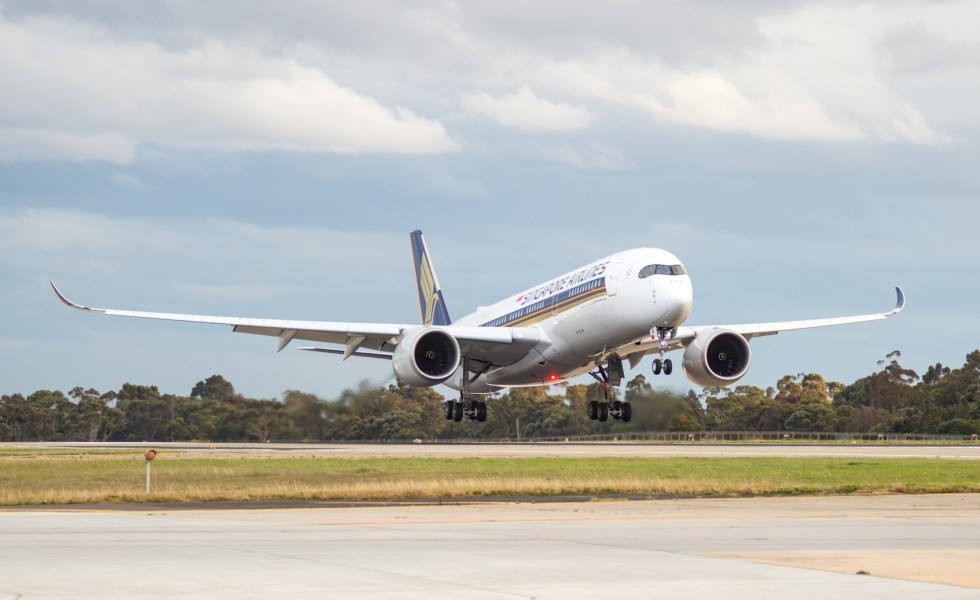 On flights to Singapore, you can 'Book the Cook' and reserve your main course up to 24 hours before you fly, including creations by notable chefs from the carrier's International Culinary Panel. You'll dine in restaurant setting onboard with full table service, and wines to match the food and altitude.
There's free WiFi available for Business, First and Suites customers and alongside fantastic food, hospitality and comfort, find thousands' of hours entertainment on demand including new-release movies, TV shows, music, games and more.
Book your Singapore Airlines flights now at singaporeair.com