With the opening of Fairmont Maldives Sirru Fen Fushi in April 2018, AccorHotels introduces the Fairmont luxury brand to an area celebrated for its pristine natural beauty.
Located on the Shaviyani Atoll in North Maldives, which boasts one of the country's largest resort lagoons, the stunning new property offers 120 luxury villas, each with a private pool.
Sirru Fen Fushi, which means 'secret water island' in the local Dhivehi language, is set on an exceptionally lush island bursting with flora and fauna.
The picturesque locale is also surrounded by powder white sand beaches, peppered with thatched-roofed villas overlooking an endless turquoise sea.
The all-villa resort is ideal for couples or families, and features 200 meters of infinity pools as well as luxury safari-style tented villas nestled in the island's lush interior jungle.
Homage to the abundant sea life and pristine coral house reef surrounding this world-class resort, Maldives' first coral regeneration project in the form of an Underwater Art Installation is created by celebrated underwater naturalist and artist Jason deCaires Taylor. Its May 2018 launch is highly anticipated by international media and guests alike.
"We are thrilled to introduce the first Fairmont and our third development in the Maldives since our entry into this region in 2017," said Patrick Basset, Chief Operating Officer of AccorHotels, Upper Southeast and Northeast Asia.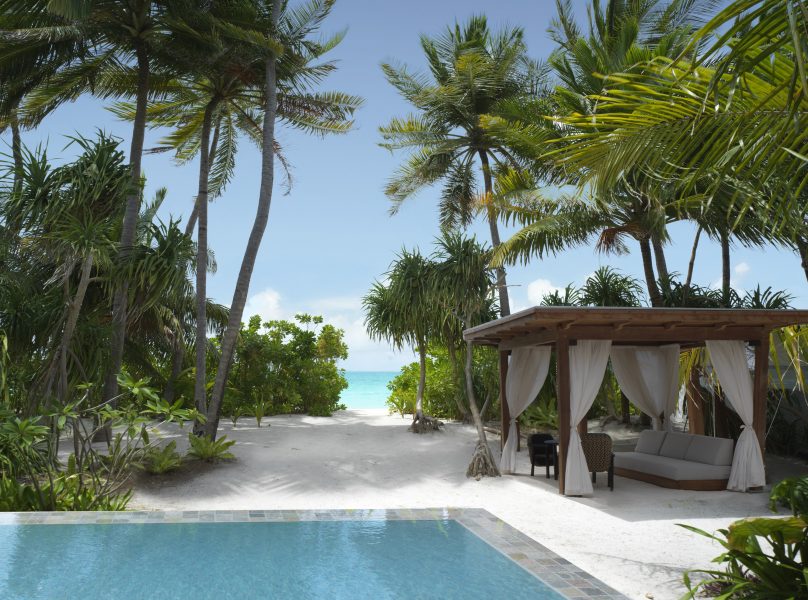 "Fairmont guests feel like they are in the heart of the destination; and at our first Fairmont property in the Maldives, we are delighted to offer them the full Maldivian immersion with locally inspired design and indigenous cultural experiences, enhanced by Fairmont's welcoming service and the destination's fabled natural beauty."
Fairmont Maldives Sirru Fen Fushi is the sole hotel on the pristine atoll, and its previously untouched location has allowed marine life to flourish, with manta rays, turtles, large pods of bottlenose dolphins and spinner dolphins regular visitors in the crystal-clear waters of the 600-hectare lagoon.
The nine kilometer-long house reef, directly accessible from the beach, is home to vibrant corals and a thriving ecosystem teeming with life. Uniquely, a manta ray cleaning station at the house reef, offers guests a rare close and extended glimpse of one of the world's most majestic marine creatures, many of which drop by in a beautiful display of aquatic symbiosis with smaller sea life.
The 120 villas are categorized based on the island's stunning topography, and include Beach Villas, Water Villas, and Tented Jungle Villas. Copper bathroom fittings and carved wood detailing on furniture lend the villas a bohemian rustic chic vibe. Specially adapted to the Maldives, the unique tented jungle villas offer privacy and a romantic castaway vibe; other guests can also experience the verdant island interiors with glamping BBQs or jungle cinema.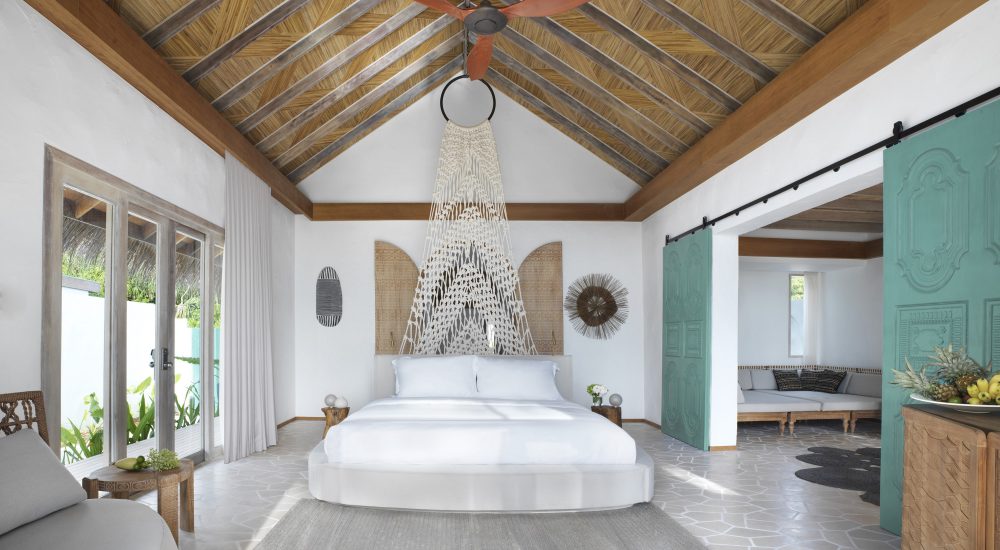 A strong connection to nature guides guests throughout their stay, even at the resort's contemporary dining outlets. These include an international all-day dining spot called Raha Market; an over-water Japanese restaurant, sushi bar and sea lounge named Kata, where Chef Dharmen brings creative flair to add modern and Maldivian twists to Japanese dishes; and the over-water fine dining destination, Azure, where fresh seafood and fish-market displays of daily local catches are complemented by fantastic wines and Champagnes.
Throughout the resort, still and sparkling water produced by the resort's desalinization process are served in the Fairmont-branded glass bottles for guests' ease of consumption.
Adjacent to the main all-day dining restaurant, the intimate Raha Market Bar is a relaxed space for aperitifs or digestifs to round off a meal at the water's edge.
At the all-bamboo Onu Onu, loungers and fire pits add to the laid-back poolside atmosphere, while sunsets are best enjoyed with a sundowner at the Kata Roof Top Bar and lounge which overlooks the entire western side of the island. Destination dining experiences draw guests further into nature with private meals enjoyed under the stars and powder-soft sand beneath the toes.
It's the same tranquil natural surroundings from which the Willow Stream Spa at the Fairmont Maldives draws its energy and vitality. The 2,000 sqm wellness area has been adapted to Maldivian island chic in its concepts with the use of endemic herbs and Indian Ocean-inspired treatments. The architectural design features hand-carved wooden doors, with sea breeze passages designed to draw fresh sea air into the treatment rooms. A dedicated Olympic size Jacuzzi pool is provided for Spa Guests for pre or post treatment immersion.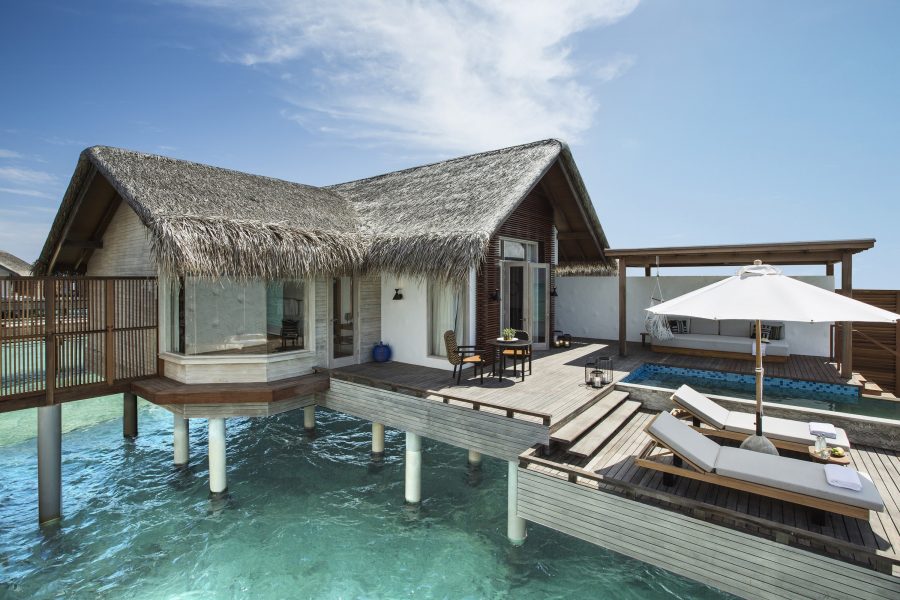 Both AccorHotels and the Fairmont brand have a strong reputation globally for sustainable tourism and are committed to improving the well-being of local communities and ecosystems wherever they operate and addressing the environmental impacts of their operations.
Fairmont is renowned for capturing the heart of a destination through community engagement and memorable guest experiences. At Sirru Fen Fushi these include cooking classes with a Maldivian master chef, local island adventures, and sunset fishing aboard an authentic Maldivian dhoni whilst learning traditional line fishing methods to give guests a taste of the Maldivian way of life. The surrounding idyll is showcased with castaway picnics and overnight cruises to enjoy the stunning night sky of the Maldives from the luxury of the resort yacht.
When the mood takes them – and it will – the resort's on-site art studio offers guests all the tools and materials required to be inspired and express their creative spirit with the guidance of resident and visiting artists. With a tailored selection of units suitable for families and children at the resort, a variety of daytime activities including coconut painting, canvas creations, jewelry and making dreamcatchers are available. Families are well-catered with a Kid's Club, Toddler's play garden, and the dedicated Teen Town, offering a wealth of exciting experiences for young adults.
Fairmont Maldives Sirru Fen Fushi is also poised to bring the essence of its secret water island location to life with experiences that bring guests closer to nature. A sunset dolphin tour offers guests the chance to watch dolphins playing in the light of the setting sun.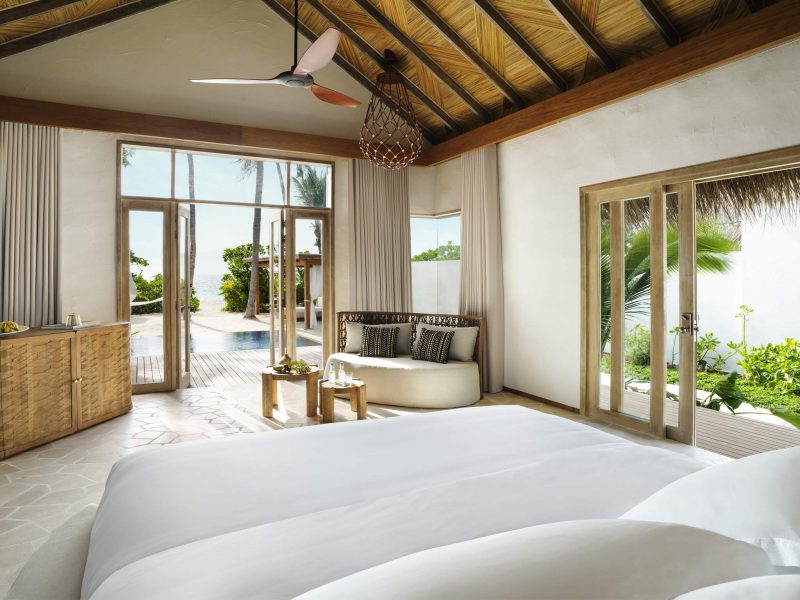 Guests can also give back to nature by planting coconut trees on the island, or by participating in coral restoration efforts and turtle release programs.
"Our resort and the destination itself are inextricably linked. As the location for the Maldives' first Underwater Art installation we hope to raise awareness that encourages long-term reef protection and sustainable tourism," says Denis Dupart, General Manager of Fairmont Maldives Sirru Fen Fushi.
As an introductory offer, Fairmont Maldives Sirru Fen Fushi is offering special rates starting at USD $770 per villa per night on a bed-and-breakfast basis for bookings until 30 September 2019.
For reservations and general information, please visit www.fairmont-maldives.com, email reservations@gbh.mv, or contact +960 654 8888.