Kitchens on Kent at The Langham, Sydney in Millers Point is bringing new culinary excitement, theatre and extravagance to the city by redefining the concept of traditional buffet.
Opening on August 26, 2019, this restaurant will be a destination. The interactive journey through Kitchens on Kent will give diners the opportunity to experience, indulge and celebrate.
After a five-month overhaul and refurbishment, The Langham's dining space has transformed into a 180-seat, multi-station, interactive restaurant. It's been a huge project with a full extension, a complete re-design and the installation of brand new show kitchens. And it's these kitchens and their chefs, that will bring the life and soul to the restaurant.
Designed by Executive Chef Dave Whitting, the menu brings together a variety of cuisines which are inspired by his experience working in international hotels and Michelin Star restaurants.
"We've proudly named this restaurant Kitchens on Kent as that's exactly what it is, here at The Langham on Kent Street," he said. "We have eight open-kitchen stations where we'll show-case a vibrant selection of traditional and innovative global cuisines.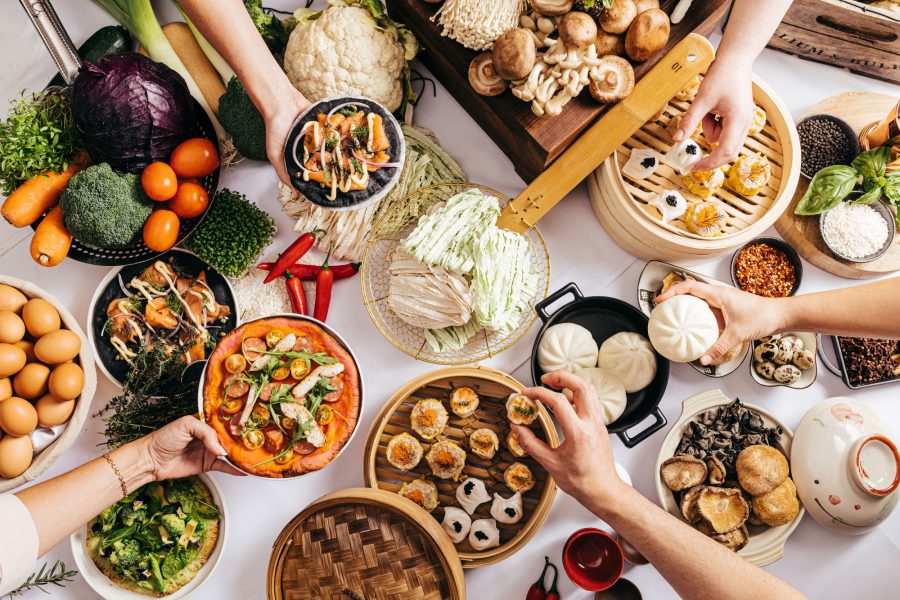 "Sydney-siders and domestic and international diners are constantly becoming more experimental. Nowadays, everyone is a foodie, who not only loves fine-dining, but also enjoys choice and flexibility. It's hard to find both, but now they can, as I'm blending a luxurious à la carte menu with the buffet experience."
Enter Kitchens on Kent and diners will go on an exciting and vibrant culinary journey, tasting flavours from around the globe.
Whitting is betting on the fresh seafood to be the restaurant's showstopper. The enviable and luxurious display will feature Sydney rock oysters, blue swimmer crabs, tiger prawns, local tuna, salmon, kingfish and lobster, all supplied by Sydney Fish Market.
"The produce and suppliers we work with are extremely important to us, not only are we serving the freshest local and seasonal produce, rare produce that our guests wouldn't expect to see at a buffet will also be offered," Whitting said.
Whether diners indulge in the seafood or head directly to the desserts, it's the chefs behind the interactive kitchens that make Kitchens on Kent what it is.
Global chefs have been hand-picked by Whitting for their passion, energy and fire. Expert chefs will be behind each live cooking station, creating made-to-order and customable dishes.
Children will not miss out on relishing the interactive culinary experience as they will be opportunities to interact with the chefs, from pizza making classes to cupcake decorating.
Getting spoilt in Kitchens on Kent won't be difficult with choices from squid-ink rustic pizzas made in the beech oven, the rotisserie offering whole cooked meats such as suckling pig, a Tandoor oven serving up traditional Indian dishes and Sydney's only robata grill offering a selection of game meats cooked over smoky charcoals.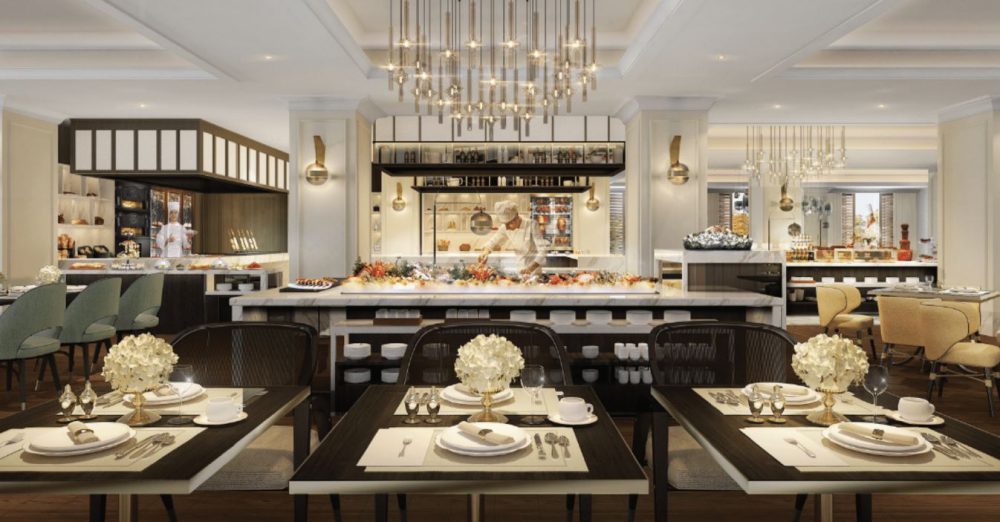 Chefs will also be showing off their skills and interacting with the guests at the Japanese sushi and sashimi station, raw bar, dumplings, and wok and noodle station. Additionally, they'll be a fresh pasta kitchen, hot western dishes, a carvery and a charcuterie table filled with a selection of local and international cheese and meats. The vegetarian, vegan and gluten-free options will also be plentiful leaving nobody out of the full Kitchens on Kent experience.
Challenge the status quo and eat pudding first. The dessert station will satisfy even the sweetest tooth with macaroon towers, a milk, dark and white chocolate fountain, hot and cold desserts, soufflés made-to-order along with a gelato station that will rotate through an abundance of enticing flavours.
To top it all off, Kitchens on Kent is all about celebrating. The ambience is opulent, with large marble tables showcasing produce, whilst the atmosphere is sophisticated, lively and attractive. Designers, Wilson Associates in Singapore have curated a luxurious, yet inviting setting with plush dining chairs and dark timber tables that will be arranged in both sociable and romantic set-ups, allowing a whole array of celebrations to be enjoyed. Two private dining areas are also available for those extra special occasions.
As part of the celebration, guests can receive expert advice from the in-house sommelier, giving them the opportunity to pair their cuisine with rare wines from The Langham, Sydney's reserve wine list. Or why not go for an unlimited sparkling wine or beverage package or even select a delicious cocktail from the adventurous menu from Observatory Bar.
The Langham, Sydney's General Manager, Gaylord Lamy, said Kitchens on Kent is a place for everyone, wanting to experience, indulge and celebrate at any time.
"Whether you're celebrating the arrival of the weekend at our bottomless brunch, a quick mid-week power lunch with colleagues, congratulating your mum and dad for reaching their 40th Wedding Anniversary or just celebrating the everyday with your family; we want Kitchens on Kent to be at the forefront of diners minds," he said.
"From your four-year old son, to your 80-year old Grandma and everyone in-between, Kitchens on Kent will please and excite everybody, making it the must-go-to restaurant in the city."