The opening of InterContinental Hotels Group's (IHG) highly anticipated Crowne Plaza Adelaide property has been brought forward to September 1, Wayfarer can exclusively reveal.
Crowne Plaza Adelaide General Manager, Sarah Goldfinch, said the opening would be ahead of the original targeted date of October 2020 and the property would feature all of the popular brand's latest design concepts and initiatives.
"We're incredibly excited to be opening our doors to guests soon," she told Wayfarer. "We're in the very final stages of construction, adding finishing touches and moving furniture in. It is really coming to life.
"Throughout the hotel, our design approach satisfies the needs of professional productivity, advanced restoration and inspiration.
"Crowne Plaza Adelaide will be the first and definitive choice when it comes to business-class stays in Adelaide," Goldfinch said.
The South Australian property will be the latest to feature the brand's new 'Plaza Workspace' offering, which offers a co-working space for guests and is being rolled-out across the globe.
"The Plaza Workspace is Crowne Plaza's whole new take on the hotel lobby design and really helps our guests move seamlessly from work time to down time," Goldfinch said.
"It has an abundance of access to power, wireless phone chargers integrated in the tables, and guests will enjoy access to free high-speed WiFi, designed to answer the growing trend in flexible work and life preferences, and people's desire to work from anywhere.
"It is also centred around our vibrant, lively bar, Luna10 which offers a refined drinks list and Japanese small plates… it creates a hub for the hotel and our guests," she told Wayfarer.
On the food and beverage front, Goldfinch said guests can expect top quality food and drinks from Luna10 – which will also serve guests outside by the adjacent pool – and Pan-Asian influenced eatery Koomo, helmed by Executive Chef Patrick Chung.
"The culinary focus at Koomo will be modern Pan-Asian with a strong Japanese influence," she said. "The menu will feature comfort food with dishes such as Katsu Sandos, noodle dishes including Ramen and a hibachi grill section.
"The interior of the restaurant will reflect Japan's rich history of utilising natural materials such as timber and stone and feature details inspired by the Art Deco period.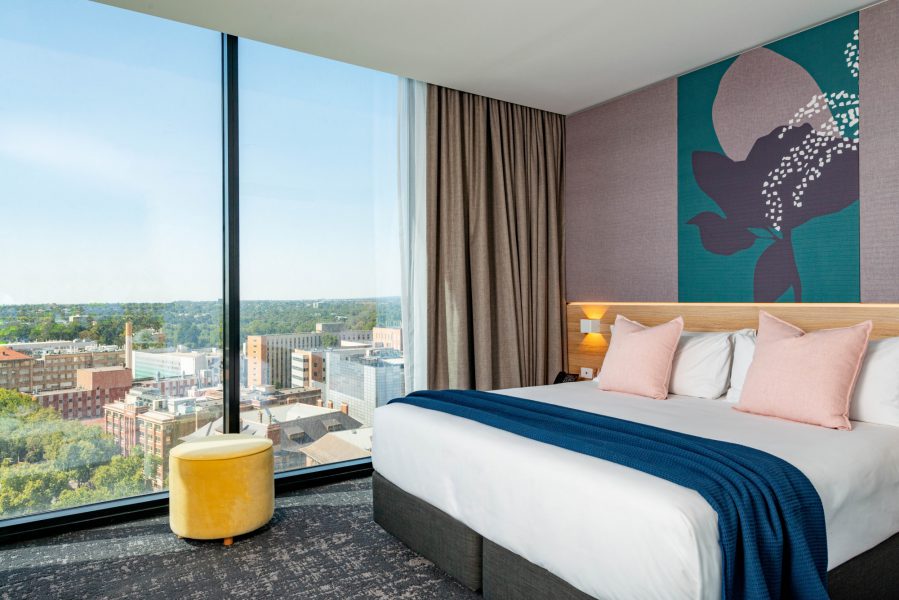 "A grand island bar will take center stage in the restaurant and an open kitchen will create a sense of anticipation for the dishes that will exit.
"Whether you're meeting in larger groups or looking for a more private dining experience, the restaurant boasts an array of dining options including larger communal spaces, intimate seating areas, as well as alfresco dining with spectacular views [of the city and Adelaide Hills]."
All of the action at the hotel is centred around the offerings on level 10, which Goldfinch said was sure to impress.
"We're particularly excited to see guests' reactions to the Level 10 Lobby, home to our F&B outlets: Koomo Restuarant and Bar and our pool side bar, Luna10 as well as the state-of-the-art gym, outdoor, heated, infinity pool and Plaza Workspace," she said.
When it comes to the accommodation on offer, Goldfinch said guests can expect 329 design-led guest rooms starting from 28 square meters and will be some of the most stylish and technologically advanced in the city.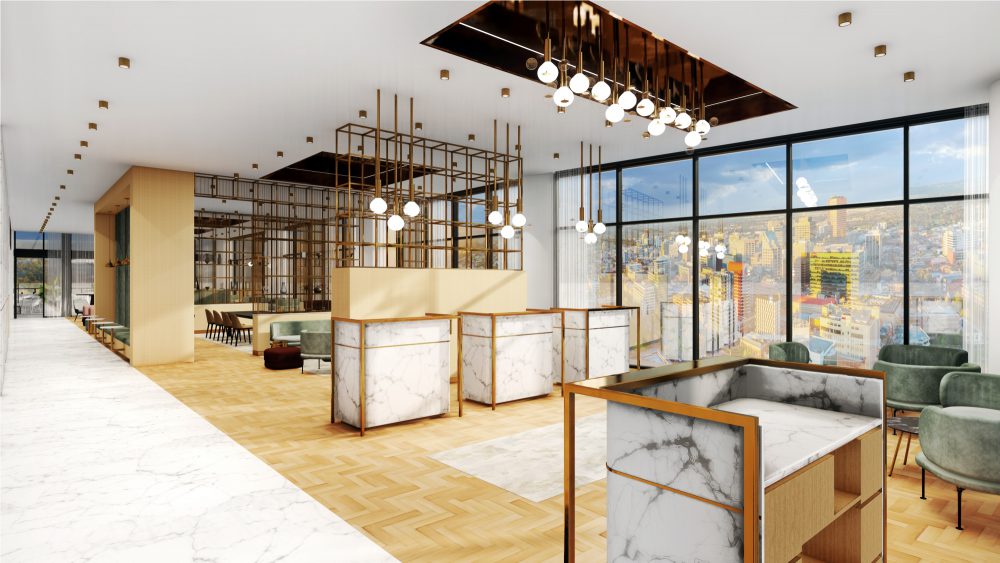 "Our WorkLife guest rooms designed for the modern traveller," she said. "The in-room streaming app and plush bedding make relaxing a breeze.
"Our Sleep Advantage program ensures a better night's sleep with premium bedding and aromatherapy kits.
"Then, mornings in your room come with floor-to-ceiling windows, unrivalled views of the city, guaranteed wake up calls and an espresso capsule machine to kick start your day."
Alongside the in-room streaming app, the high-tech rooms will also feature a digital in-room compendium, Bluetooth-streamed music, a 55-inch LCD TV, free high-speed WiFi and wireless mobile charging.
The hotel will be a haven for business and leisure travellers – also expect a fully equipped gym with views of the Adelaide Oval alongside the heated outdoor infinity pool – and for meetings and events, with Crowne Plaza Adelaide to feature some of the most advanced facilities in the city.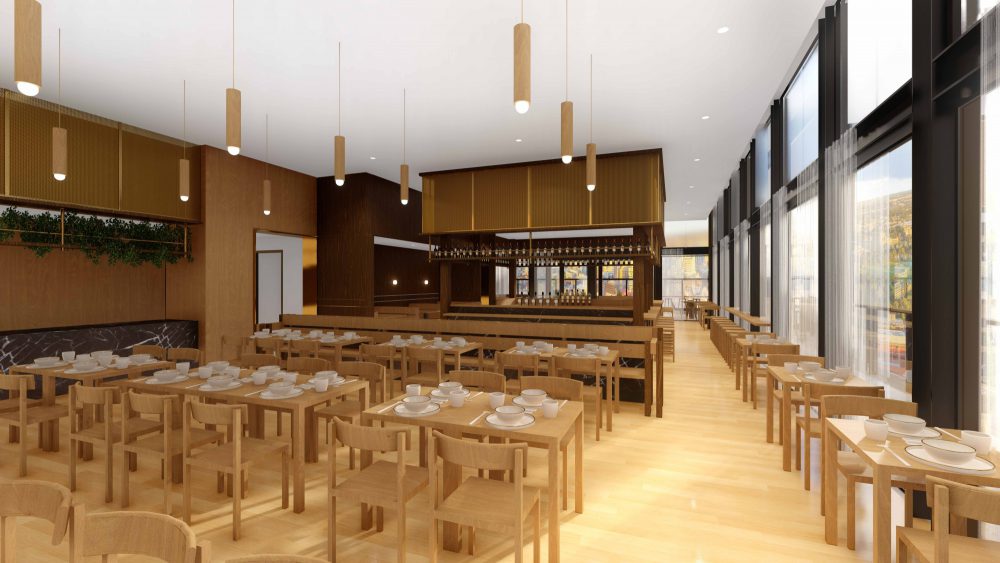 Goldfinch said Crowne Plaza Adelaide would have 450 square meters of flexible meeting and conference space across four spaces in total: The Visionary Ballroom and pre-function space, Elevate + Collaborate (these spaces combine to create one larger space) both with a pre-function space, equipped with an automatic coffee machine.
"The Think Tank will be your one stop shop for boardroom private meetings and you can engage with ease with our mobile polycom equipment," she said.
Goldfinch revealed to Wayfarer there has been significant interest in the event spaces and the feedback to date had been firmly positive.
"We are starting to see some pick up in conference and events enquires, which is incredibly encouraging," she said. "Our commercial team is starting to book in site inspections for anyone seeking a meetings space.
"Our Level 2 conference floor welcomes you with floor-to-ceiling windows and lovely natural light but of course, you can also request a blackout."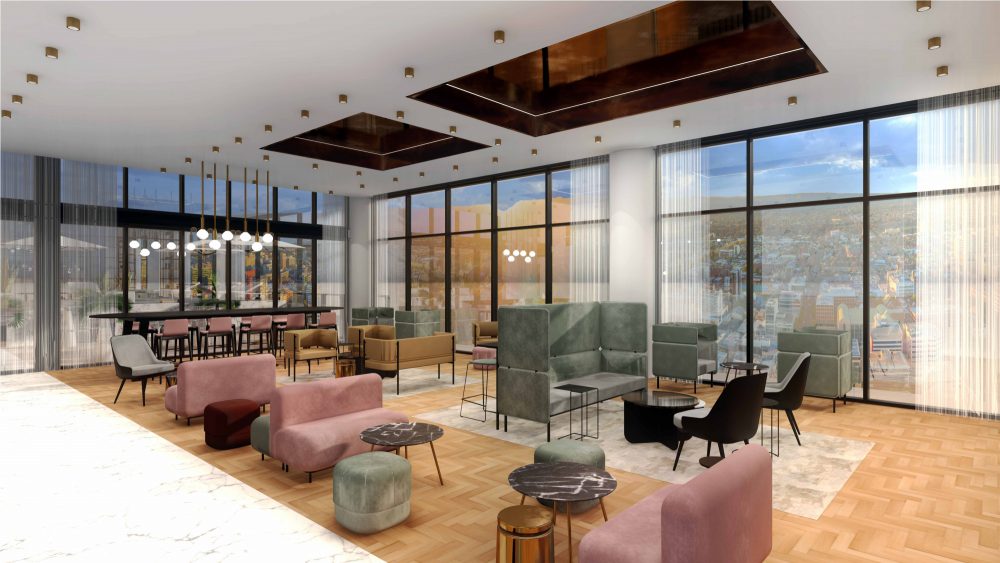 On the sustainability front, Crowne Plaza Adelaide will more than impress and Goldfinch said some of the initiatives included: paperless check-in/check-out; bamboo key cards; no paper compendiums in rooms (all digital through the TV system); electronic newspapers throughout the hotel via the PressReader App; bulk amenities in rooms to reducing waste; no paper flyers at the concierge desk; no plastic straws in the restaurant and bars; no plastic bottled water in the hotel; reusable coffee mugs in guest rooms; paperless reporting for all departments; no tablecloths for meeting function tables; and the hotel will also take part in the IHG Green Engage, whereby guests can achieve points for less room servicing.
When it comes to cleanliness and wellbeing, Goldfinch said Crowne Plaza Adelaide will put in place the IHG 'Clean Promise' initiative.
"Underpinning the new hygiene regime is a 'Clean Promise' from IHG which states that if a guest is unsatisfied with the standard of cleanliness in their room, the property will immediately rectify the situation," she said.
The opening of Crowne Plaza Adelaide is one of three for the brand this year, alongside Crowne Plaza Hobart (which debuted on July 1) and Crowne Plaza Sydney Darling Harbour, scheduled to open in the third quarter of 2020.