Traeger Grills' Australian Ambassador and Author of WILD: Adventure Cookbook, Sarah Glover, has created a delicious Flourless Easter Chocolate Cake.
An internationally renowned chef and explorer, Glover has travelled the world in search of epic food and wild adventures.
As a classically trained chef and pastry chef, Sarah brings skill to wood-fired cooking, scaling windswept cliffs and salty stretches of beach to create simple, uncomplicated and seriously tasty food (always with a grin!).
Sarah has forged a career in Bondi Beach, Tasmania and beyond. She is the author of WILD: Adventure Cookbook and owner of the Wild Kitchen, a catering company founded on extraordinary events, cooked up under the stars.
Here is her brilliant Flourless Easter Chocolate Cake recipe.
Sarah Glover's Flourless Easter Chocolate Cake
EQUIPMENT
● Traeger Grill
● 23cm cast-iron frying pan or cake tin
INGREDIENTS
● 90g dark chocolate (70% cocoa solids), broken into small pieces
● 135 g unsalted butter
● 2 teaspoons rum or brandy
● 2 teaspoons hot black coffee
● 135 g caster (superfine) sugar
● 5 eggs, separated
● 135 g almond meal
● cocoa powder, for dusting
● Easter eggs, for decorating
● cream, to serve
METHOD
Preheat your Traeger Grill (using pecan pellets) to 180°C.
Add the chocolate, butter, rum or brandy and coffee to a cast-iron frying pan and place on your Traeger Grill/BBQ. Allow the mixture to melt, stirring to combine, then remove from the heat.
Place the sugar, egg yolks and almond meal in a bowl and whisk to combine, then pour in the melted chocolate mixture and stir until completely combined.
Meanwhile, whip the egg whites until stiff peaks form, then gently fold into the chocolate batter.
Line a 23 cm cast-iron frying pan or cake tin with baking paper, then pour in the batter. Transfer the pan or tin to the Traeger grill and cook for 30 minutes, or until the edge of the cake is firm and a skewer inserted into the centre of the cake comes out clean. Because the cake has no flour, it's quite fragile, so it's best to let it cool in the pan or tin before turning out.
Dust the top of the cake with cocoa powder, decorate with chocolate Easter eggs and serve with cream.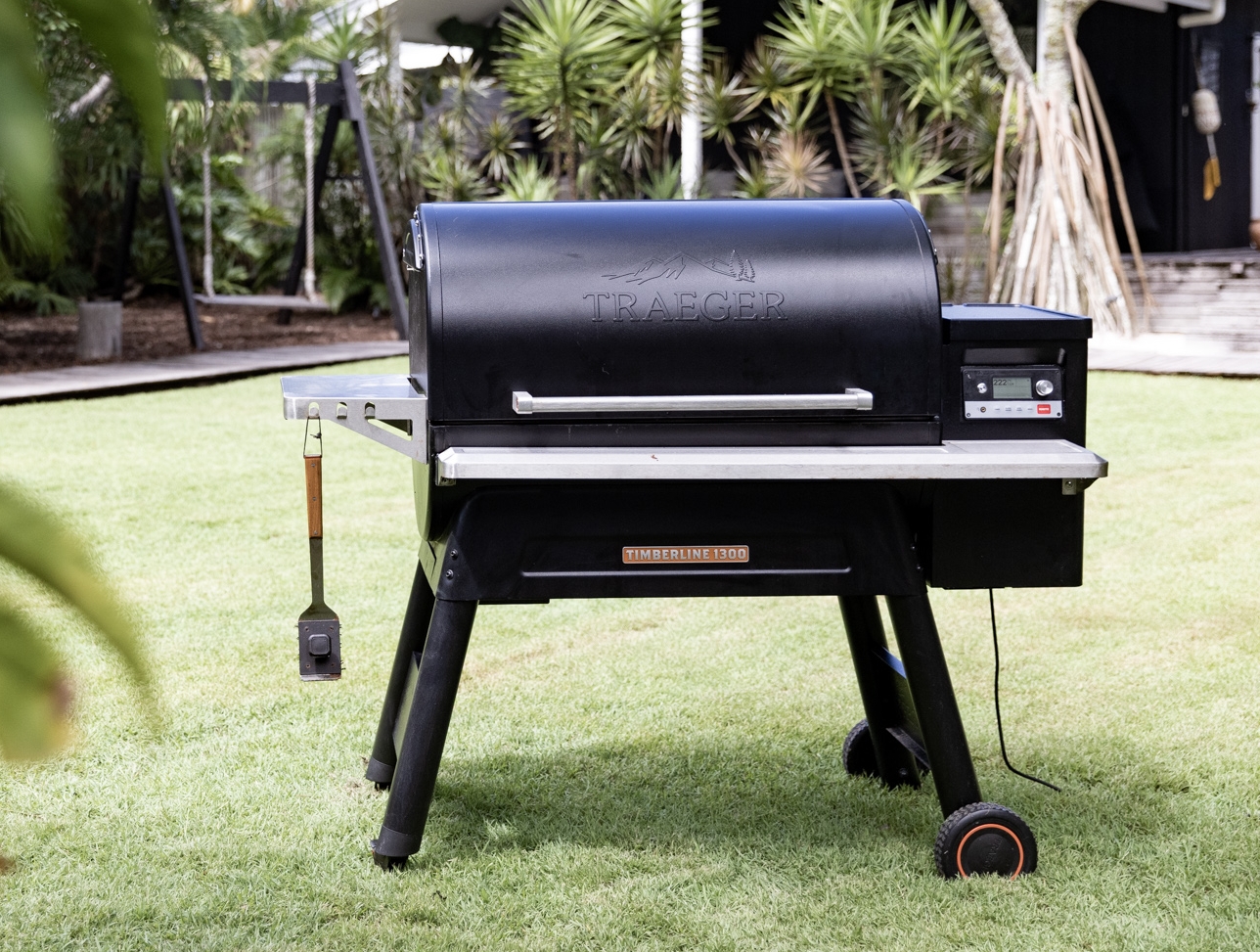 ABOUT TRAEGER GRILLS
Traeger Grills, headquartered in Salt Lake City, has been revolutionising BBQ grilling and outdoor cooking for over 30 years with one simple, all-encompassing cooking solution.
Traeger pellet grills use 100% all-natural hardwood fuel to infuse food with flavorful smoke, making food taste delicious and most of all, memorable.
As the inventor of the original and world's top selling wood-fired grill, Traeger utilizes wood-fired convection power to provide 6-in-1 versatility; grill, smoke, bake, roast, braise and BBQ meals to perfection every time.