After a summer break that saw both the restaurant and the menu re-imagined, COMO Metropolitan Bangkok is re-launching its iconic nahm restaurant with award-winning Chef Pim Techamuanvivit at the helm from October 1, 2019.
From one of Asia's most awarded and respected chefs, someone who champions the fast disappearing flavours from her childhood and crafts them into extraordinary, multi-layered dishes of depth and excitement, Chef Pim's admission is something of a surprise.
"I think of myself as a cook rather than a chef. Cooking is the work of actually putting together delicious food and sourcing good ingredients," she said. "It's the work of women in general. Cooking, when it's in the home, has always been the work of women.
"It's only outside of the home, when it became a profession, that it became a man's job. I'm not a professionally trained chef, I'm a cook who has been taught by other women cooks in their homes."
It reflects her modest but genuine vision, namely that dining at nahm is an experience of Thai hospitality no different than if you had been welcomed into her grandmother's or aunt's home. She sees herself – and her restaurant – as a link in that chain. The women in her life have passed it on to her, the next generation, teaching her how things should taste, what part of what ingredient should be in each dish.
To understand how this culinary homecoming translates for diners, we first need to go back. Chef Pim admits that she only started to get interested in Thai food because she missed home when she moved to the United States at the age of 19. The Thai food she was used to eat in America – even at Thai restaurants – was unrecognizable to her. Consequently, learning how to cook Thai food became what she calls 'a project', one where she would call home to Bangkok and ask her aunt how to make certain dishes.
"I decided that every summer when I would come home, I'd go and sit in the kitchens and learn," she said. "If I knew someone's family had a great recipe for something, I'd ask to come and watch in their kitchens. My parents thought it was quite cute, me sitting on the floor, pounding curry paste for hours and learning how to taste the difference in fish sauces."
Fast forward a couple of decades and her new menu at nahm celebrates this heritage and nostalgia based on the finest artisanal produce and tradition. One dish on the new menu, for example, is kanom jin nahm prik, made by her grandmother and one she grew up eating, as she recalls with a smile, "My childhood's Sunday lunch."
"When I got back to Bangkok, no one made it the way I remembered," she said. "I'm not saying it's the best in Bangkok, it's just that this one is my grandmother's version and special to me – I like to tell guests this as it's important to me and somebody has to remember it. Our heritage are just memories, which we pass on to the next generation."
The other critical piece alongside recipes are the ingredients: "I can't make good food without good ingredients – I'm a cook, not a magician! I find ingredients by going to markets all the time and tasting everything. If I'm looking for fish sauces, I will get everything I can find – up to 15 varieties – and I will taste each of them and understand what they are each saying to me," Chef Pim said.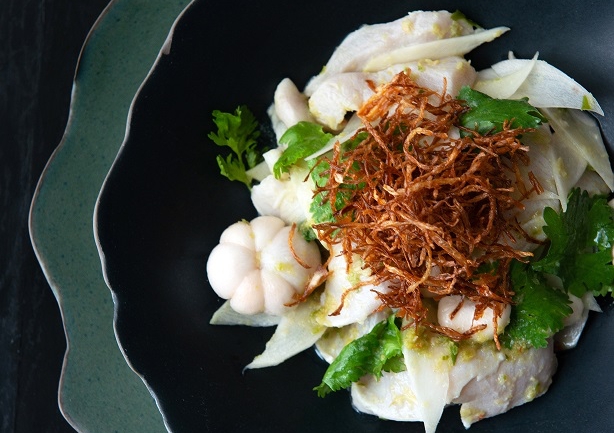 When sourcing ingredients for nahm, she tends to look for something made in the old traditional way by a small producer, someone that today we'd label 'artisanal' but in Bangkok is just traditional.
Sustainability is a critical aspect for Chef Pim and all at nahm who seek to work in a truly sustainable food economy.
"As a chef, it's my responsibility to go out of my way to find and buy those ingredients so that these people gain a sustainable living and that their work is passed on," she said. "Because if no one is making good shrimp paste anymore then my relish is going to taste terrible. Its choices you need to make. We can't claim that everything we do is sustainable, but we try and make as many local choices as possible."
This philosophy even extends to nahm's new tableware, as through word of mouth in Bangkok, Chef Pim found a local ceramicist. The incredibly gifted artisan works in Chinatown, only a few minutes from nahm, and uses clay with only natural ingredients from different regions of Thailand. Now he and Chef Pim have worked together on shapes borrowed from Thai heritage such as the Bang She Yan style of pottery for the newly refurbished restaurant.
nahm's trajectory is unique, a restaurant with an amazing legacy that helped to bring Thai cuisine to the forefront of the world's gaze. Now under Chef Pim's stewardship it's a place where people feel like they are coming to a Thai person's home to eat, to enjoy delicious food using local ingredients in a lovely, warm setting.
The food is both cooked and served in the way that a Thai person eats, meaning that every menu is balanced: there will be a spicy curry or a stir fry with a bit of a kick, but also always a bowl of savoury broth, an acidic relish, a cleansing vegetable.
COMO Metropolitan Bangkok is located at 27 S Sathon Rd, Thung Maha Mek, Sathon, Bangkok 10120, Thailand.