The Halekulani and Halepuna are known as two of the leading hotels in Waikiki, where alongside stylish rooms and suites you'll find some of the best food and drinks in Honolulu.
Headlining the bar team is Lead Mixologist and Oahu native, Tuda Grehan, who oversees the drinks program at both hotels, including House Without A Key, which serves up some of the best cocktails in Honolulu.
Grehan focuses on finding new ways to elevate the guest's experience by executing the smooth and flawless operation of all outlets with beverage service.
Born and raised on Oahu, Grehan moved to New York at the age of 16 and later earned a degree in Fine Arts from The Cooper Union College with a focus in printmaking, photography, and bookmaking.
Using her specialized art background, Grehan stepped up to the challenge of crafting unique beverages tailored to each customer's preference as she started her career as a bartender in New York City, immersed in a culture that was looking for more than the conventional cocktail.
After New York, she returned to Honolulu to work at Grondin, the French Latin restaurant and bar in Chinatown, as well as a bartender at Waikiki's Maui Brewing Company and Morimoto Asia before taking on the Head Bartender at Halekulani Bakery and Restaurant at Halepuna Waikiki.
Grehan has been instrumental in leading the beverage team in creating the new signature drinks for the Earl's Pool Bar at House Without A Key and is now working on updating the drinks for Lewers Lounge.
By challenging herself to use specific ingredients or make custom infusions, Grehan believes each aspect in a cocktail serves a specific purpose.
While creating a memorable experience for guests which evokes all senses, she enjoys sharing her passion for the history and methods of cocktail making as a craft and as a cultural staple.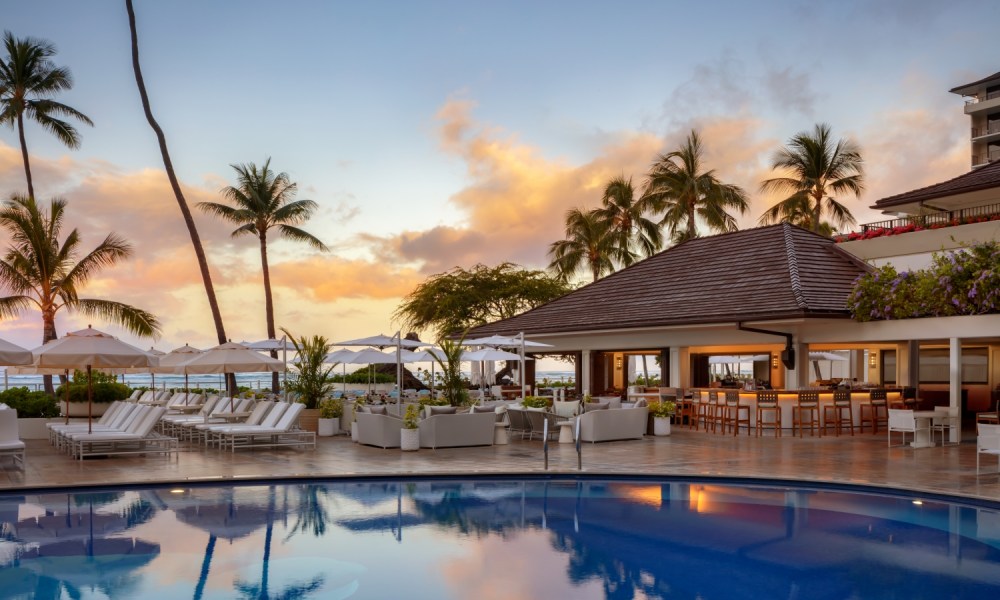 COCKTAIL LIST: TUDA GREHAN'S SIGNATURE DRINKS AT HALEKULANI AND HALEPUNA, WAIKIKI
How to make some of Oahu's best drinks at home, courtesy of Tuda Grehan.
PUNA MAI TAI
Glass: Rocks or highball
Ingredients:
-2 orange slices
-¼ oz Calamansi Syrup
-¾ oz Lime Juice
-½ oz Coconut syrup
-1 oz Pineapple Juice
-½ oz Dry Curacao
-¾ oz Kuleana Rum
-¾ oz KoHana Kea Rum
Method: Shake and strain into prepped glass (with coconut sugar rim) with new ice. Float .5 oz Old Lahaina Dark Rum and garnish.
Garnish: Dehydrated pineapple and cherry pick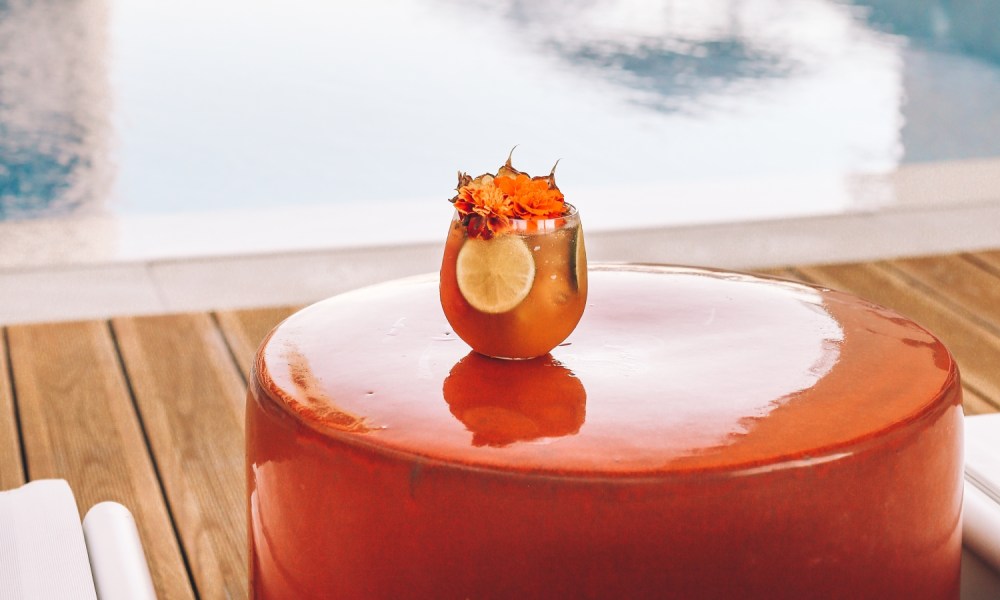 THE GATHERING PLACE
Glass: Rocks or highball
Ingredients:
-2 bottles of white wine
-1 cup brandy
-½ cup simple syrup
-2 cups pineapple juice
-1 ½ oz Peach Schnapps
-12 cups of combined fresh fruit chunks – pineapple, watermelon, and limes (cubed)
*4 cups cubed watermelon
*4 cups cubed pineapple
*4 limes sliced into wheels
-Splash of Orange Blossom Water (see method)
Method: Mix and chill for four or more hours before enjoying. Serve over ice with fruit chunks and top with club soda. Garnish with dehydrated pineapple and edible flowers. Spritz the top with a splash of orange blossom water.
Garnish: Dehydrated pineapple and edible flowers
"The Gathering place is Halepuna Waikiki's exclusive cabana refresher," said Grehan. "This refreshing summer sangria was inspired by our island of Oahu, fondly known as the 'Gathering Place', welcoming visitors from all of the world."
ESSENTIALS: GETTING TO HONOLULU
The best way of getting to Honolulu in comfort and style.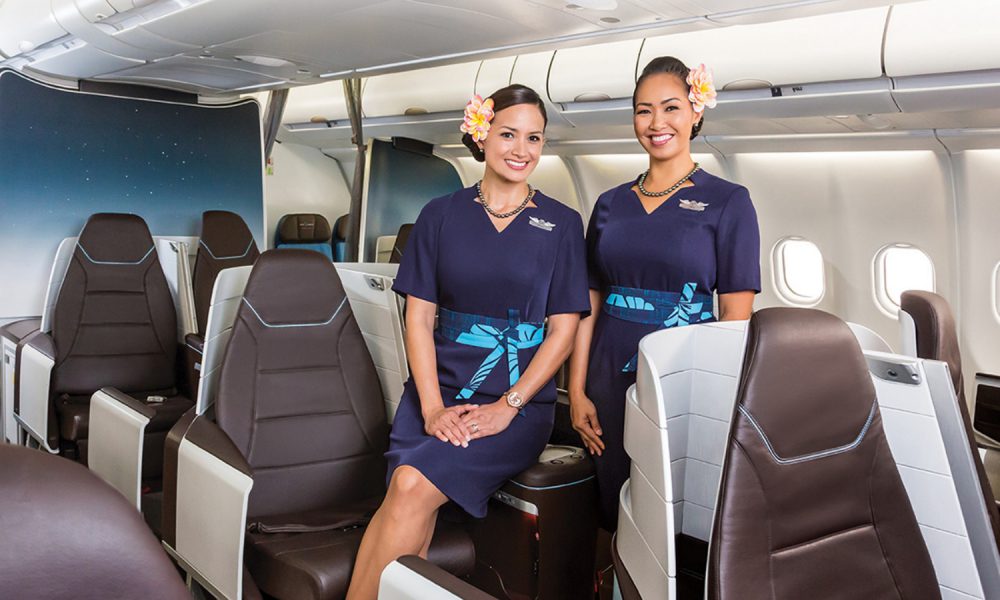 Book a seat in Hawaiian's brilliant Business Class cabin
FLY HAWAIIAN AIRLINES
Hawaiian Airlines flies to Honolulu from Sydney, Auckland and across the mainland United States. Hawaiian's brilliant onboard experience includes a stylish Business Class cabin and more Extra Comfort seats on the widebody Airbus A330 aircraft.
In Business Class, you' find flatbed seats, in a 2-2-2 configuration, that fold down into 180-degree beds that are 20.5 inches wide by 76 inches long.
Also expect a Mai Tai on arrival (and during the flight), a Hawaiian-styled meal service and after dinner, a sleeper service on the overnight flight to Honolulu that features pink duvets and pillows, and new amenity kits. Entertainment comes in the form of large-format iPad tablets that sit on a telescoping arm – something also ideal if you want to watch content on your own device.
It's also an exciting time for Hawaiian Airlines as the United States carrier re-boots its global network, prepares for the delivery of Boeing's 787 Dreamliner and focuses its efforts on being more sustainable than ever before.
Hawaiian has also upgraded its Hawaiian Miles program, taken delivery of Airbus A321s and launched free inflight WiFi and to find out the latest, Wayfarer host and Editor-In-Chief, James Wilkinson, spoke exclusively on camera in Honolulu recently with the airline's Senior Vice President, Avi Mannis.
To find out what's hot and new at Hawaiian, click on the YouTube video above.