Marriott International has opened the new-build Midnight Hotel, part of the Autograph Collection, in Canberra, Australia's capital city.
"The launch of Midnight Hotel marks a significant milestone for this market, as the first Marriott International hotel to open in Australia's capital city," said Sean Hunt, Area Vice President, Australia, New Zealand and the Pacific, Marriott International.
"Owned and operated by Iconic Hotels, Midnight Hotel is part of Autograph Collection's distinctive portfolio of inspiring hotels.
"Celebrating the world's most distinctive independent hotels around the globe, each hotel in the Autograph Collection is a product of vision, handpicked for its mark of craft, heartfelt design and authentic sense of place. These principles guide the curation of the portfolio, ensuring each hotel experience is remarkably unlike anything else."
Presenting 199 premium guest rooms, a restaurant and bar to the Canberra accommodation market, Midnight Hotel offers guests a lifestyle they won't want to leave. Part of a truly mixed-use precinct, Midnight Hotel is surrounded by integrated residential and commercial spaces, affording guests the ability to immerse themselves in the locale of the hotel.
Designed by acclaimed Australian architects, Fender Katsalidis, Midnight Hotel's architecture and décor is highly sculptural, contemporary and luxe. Sharp, textural materials frame the building, such as polished concrete, glass and metal and brass finishings. Plush, colour blocking furnishings with high design and tactile texture complement the space.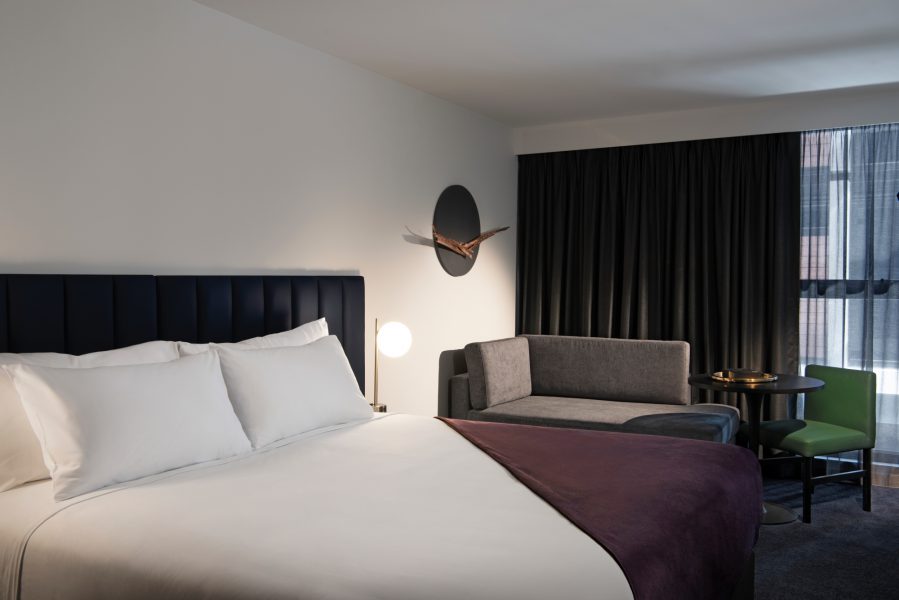 Perfectly aligned with the Autograph Collection values, Midnight Hotel brings to life The Mark that curates a signature moment that leaves a lasting imprint. Each guest room features a unique, custom artwork designed and created by acclaimed artist, Thomas Bucich. Part of Bucich's 'Relic' Series, each piece features reclaimed Australian wood and bark plated in copper or nickel, mounted on painted board. Created solely for Midnight Hotel, no two pieces are identical.
Further advocating for the original through art, each level of Midnight Hotel features a bespoke artwork by Australian artist, Tom Adair. Located at each elevator landing, the Uncovering Braddon series shines a light on Midnight Hotel's immediate neighbourhood and creative, cultural surrounds.
Situated in Braddon, one of Canberra's emerging and creative inner-city suburbs, the hotel neighbourhood buzzes with capital city culture. Less than a kilometre from the CBD, Braddon's ever-changing precinct of small businesses, award-winning eateries, micro-breweries and hip boutique shops attracts highly social, creatives seeking a unique experience. Guests are invited to explore the hotel and its surrounds either on foot, or via one of the hotel's Lekker X electric bikes.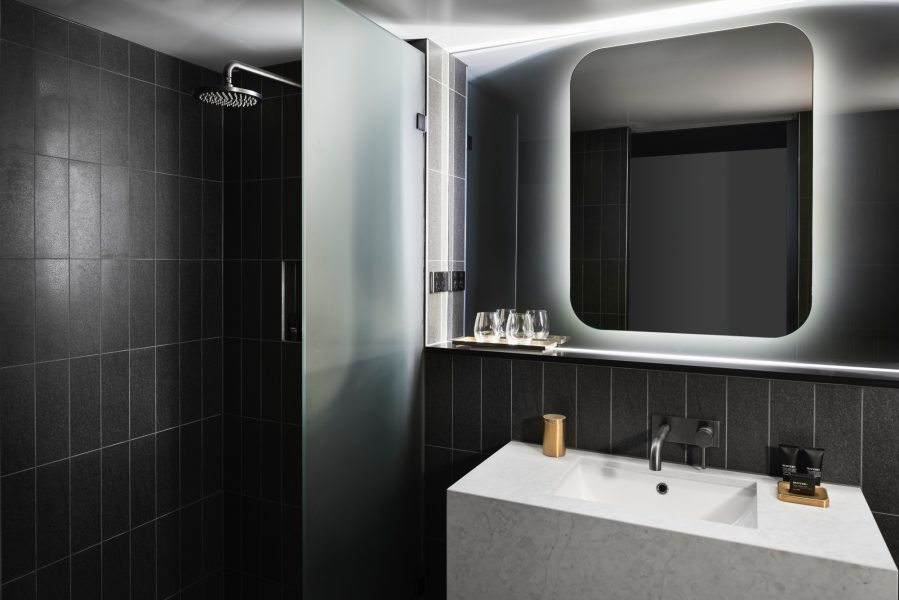 The hotel is also close to iconic national attractions, such as the National Gallery of Australia, the National Library, the National Portrait Gallery, the Museum of Australian Democracy and Parliament House. These major cultural Australian institutions are dotted around Canberra's centrepiece, Lake Burley Griffin, and play host to some of the world's most acclaimed international exhibitions.
The hotel features a restaurant, Braddon Merchant, and bar, Midnight Bar. Bathed in morning sunlight, Braddon Merchant is a bright, modern deli-style eatery with a smart European feel. Offering a thoughtful menu of fresh, simple dishes as well as a range of deli produce, boutique products and to-go options, Braddon Merchant champions fresh produce and local suppliers. Complementing this setting, Midnight Bar presents an evocative, dark and moody bar for visitors to the Midnight precinct. Offering a short, sharp seasonal menu featuring locally sourced upscale produce and a carefully curated list of local and international wines, cocktails and beers, Midnight Bar is a stylish destination with a strong dining focus.
Hotel guests will also have access to a heated, indoor pool with cabana style seating, a sauna and shared and private gym spaces. Conference and events spaces, including private boardrooms and a business lounge are also located within the hotel.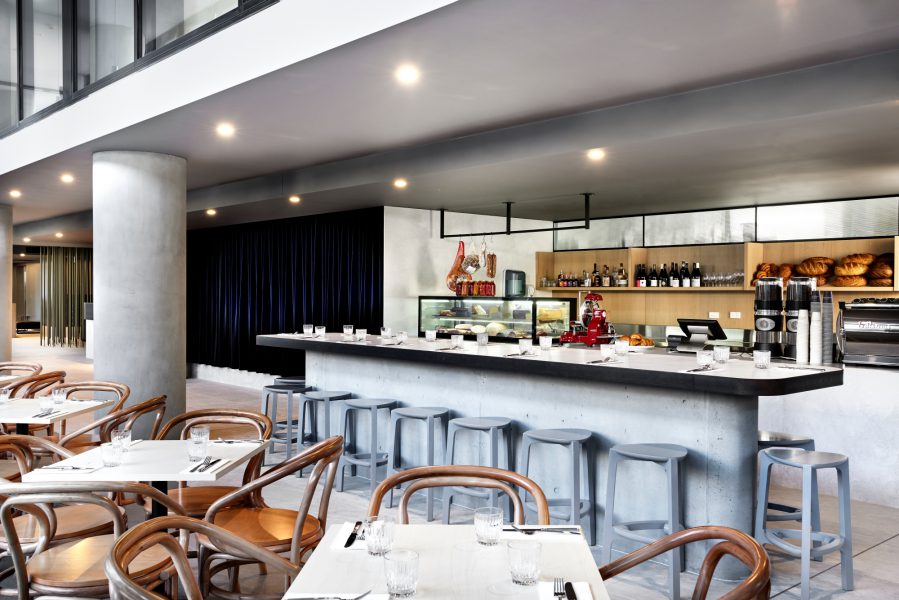 Iconic Hotels General Manager, Rien Donkin, said that Midnight Hotel is the first premium brand delivered by the company and an exciting addition to Canberra.
"Midnight Hotel is unique in design, thoughtful in spirit and affords a prime inner-city location with exemplary guest service. We are proud to be recognised as part of Marriott International's Autograph Collection and excited to share our city's story with our global guests," said Donkin.
The Midnight Hotel, Autograph Collection, is located at 92 Northbourne Ave, Braddon ACT 2612.