Manhattan's popular luxury boutique hotel Andaz 5th Avenue, located across from the iconic New York Public Library, has partnered up with Fellow Barber to carry the brand's unisex line of expertly crafted products in all of its guestrooms and suites.
The stylish amenities amplify a stay at the designer property, which is popular for both business and leisure travellers alike.
"We're thrilled to partner with an innovator like Fellow Barber, who spawned a new barbering subculture when they launched over a decade ago, raised the overall barbering wage nationwide, and created new jobs by elevating the craft of barbering," said Andaz 5th Avenue General Manager, Scott Mason.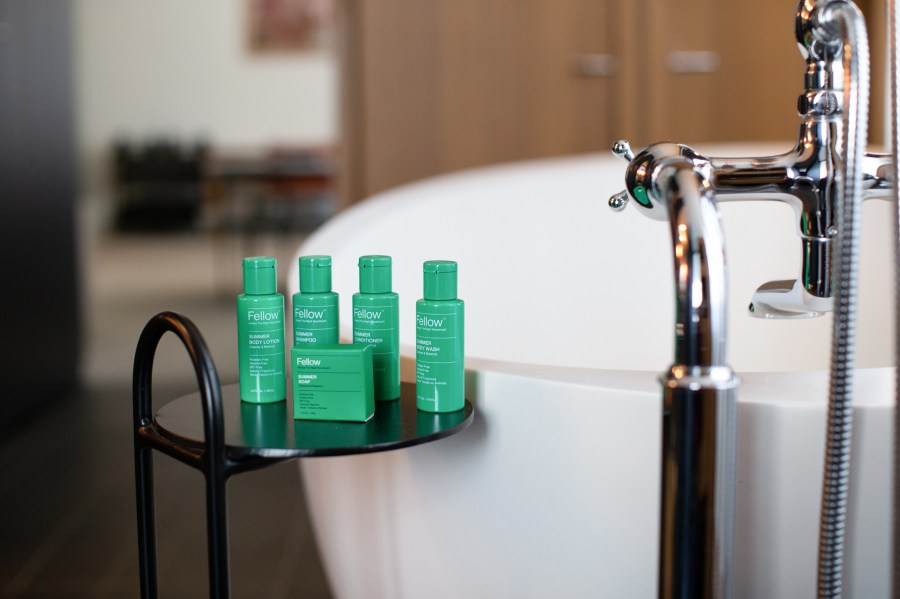 The new unisex Fellow amenity line at Andaz 5th Avenue was developed in accordance with their own barbers' strict standards to provide top-shelf products that evoke the experience of visiting one of their barbershops.
As part of Fellow's commitment to quality craftsmanship, all of their products are made in the USA and are paraben and sulphate-free.
Scented with 100% natural essential oils, the fragrance of the new amenity line at Andaz 5th Avenue leads with petitgrain (the leaves and twigs of bitter orange), and has notes of the woods of Northern California (a nod to the childhood home of Fellow Barber's Founder, Sam Buffa), eucalyptus and patchouli.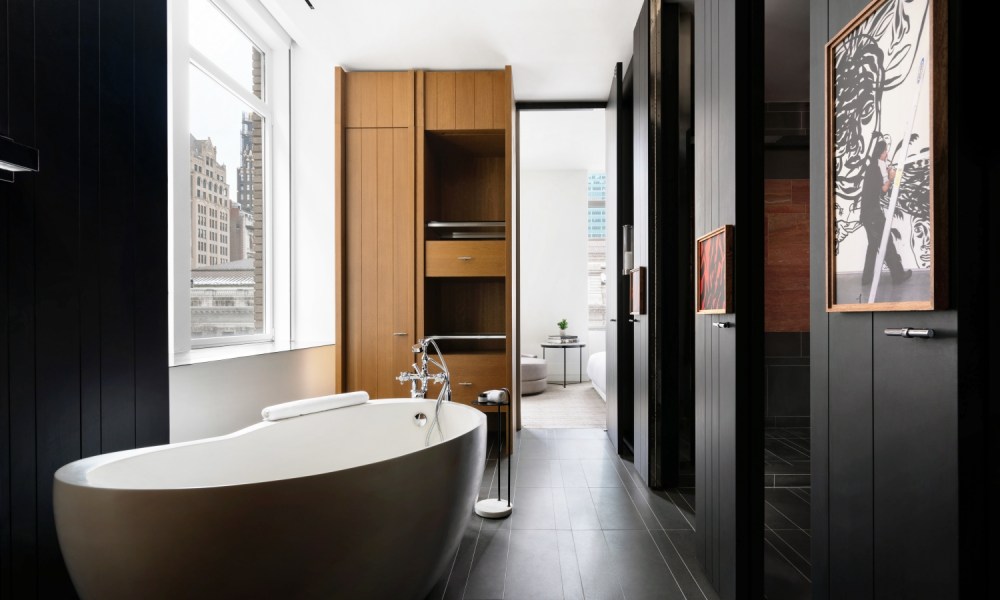 The new products, which include shampoo, conditioner, body wash, body lotion, and hand soap, contain coconut-derived surfactants for gentle cleansing as well as zinc and rosemary leaf oil to stimulate the scalp, while meadowfoam oil, mango butter, and jojoba oil work to moisturize, protect and nourish.
"We couldn't be more excited to bring this relationship with Andaz 5th Avenue to life," said Fellow Barber Founder, Sam Buffa.
"Both of our brands focus on maintaining a consistent quality to each of their locations, but with a unique aesthetic inspired by the diversity of the neighbourhood and clientele around us."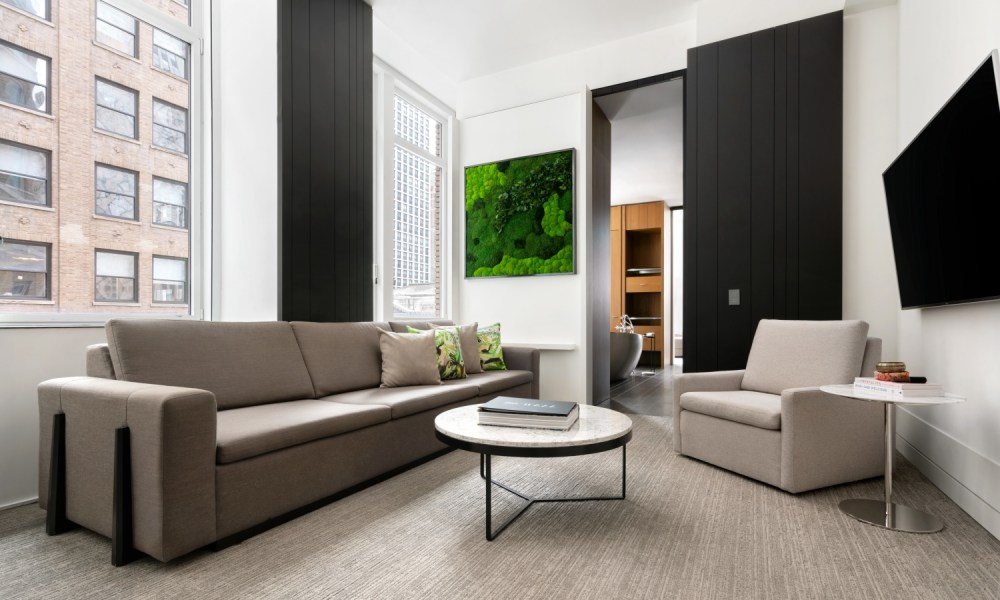 THE LOWDOWN: ANDAZ 5TH AVENUE NEW YORK
Andaz 5th Avenue offers attentive, uncomplicated service in a relaxed, sophisticated environment designed to accommodate guests' personal preferences and style.
Perfectly positioned to experience the dynamic energy of the locale, Andaz faces the iconic New York Public Library and is steps away from Bryant Park in the heart of Midtown.
This Tony-Chi designed property features 184 well-appointed guest rooms starting at 322 square feet, plus 47 spacious suites, many with private balconies or landscaped terraces.
Andaz offers a range of on-site amenities, including 6,400 square feet of event space in Apartment 2E, complimentary Wi-Fi and mini bars with non-alcoholic beverages and snacks.
ESSENTIALS: GETTING TO NEW YORK
The best way of getting to New York in comfort and style.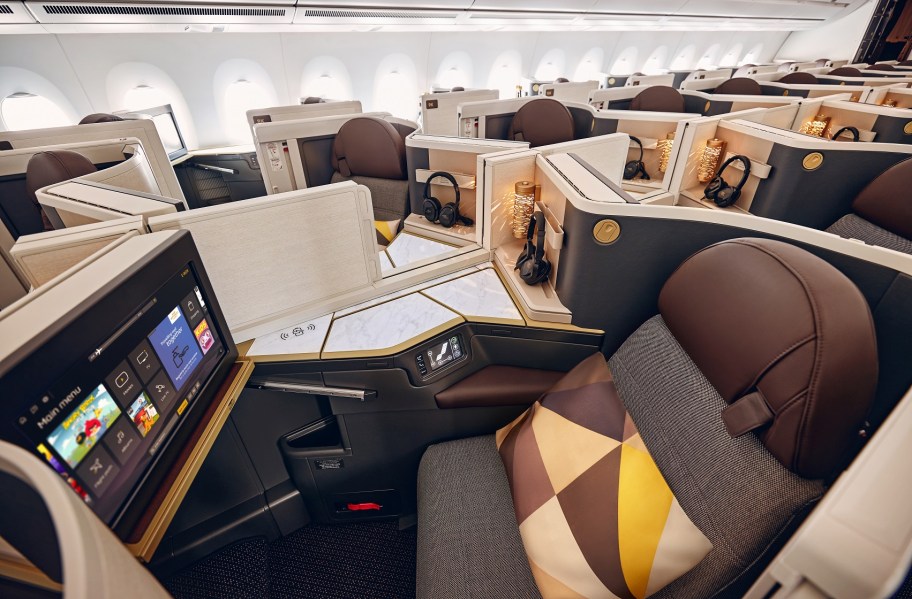 ETIHAD AIRWAYS' ALL-NEW A350-1000
Etihad Airways operates daily flights from the carrier's home in Abu Dhabi – connecting from 63 destinations in 47 countries – to New York's John F Kennedy International Airport with brand new Airbus A350-1000 aircraft, one of the most efficient aircraft types in the world with 25% less fuel burn and CO2 emissions than previous-generation twin aisle aircraft.
The author recommends flying in Business Class, which is in the form of 44 all-new, Business Studio suites, which feature sliding doors that provide a high level of privacy to each suite.
Every seat faces forward with direct aisle access and the Business Studio suite, which has a width of over 20-inches, converts into a fully-flat bed of 79-inches in length and features ample storage for convenience.
The carrier's stylish noise-cancelling headphones and an 18.5-inch TV screen provide a cinematic experience to enjoy Etihad's extensive inflight entertainment offering, which includes the latest blockbuster movies, many leading TV shows, plus games, music and much more.
The Business Studio suites also feature a built-in wireless charging dock and Bluetooth headphone pairing.