Air New Zealand leads the way with aviation technology as the first airline in Australasia to launch on the Google Assistant, offering customers a convenient, hands-free way to talk to the airline on the go.
Customers are now able to ask Air New Zealand about a range of topics via the Google Assistant, including check-in and baggage limits, using a range of devices.
Air New Zealand Chief Digital Officer, Avi Golan, says launching with the Google Assistant opens up more options for customers to interact with the airline.
"Voice is a growing channel and therefore it's important that we offer this as an option for customers to interact with us," he says.
"We see voice as playing a particularly useful role on the day of travel, giving customers who may have their hands full with last minute travel preparations, the ability to check travel information without having to manually look it up on a device."
The airline has been increasingly experimenting with Artificial Intelligence. Its chatbot Oscar has been assisting customers with commonly asked flight, baggage, lounge and Airpoints™ queries since his introduction in February. His performance has steadily improved with every interaction and today he as an average of 900 conversations per day with customers and boasts a conversation success rate of more than 70%.
"Our Google Assistant app is backed by the same in-house developed Artificial Intelligence (AI) technology that powers our chatbot Oscar and we've applied learnings and insights gleaned from Oscar's introduction to build our Google Assistant offering," Golan says.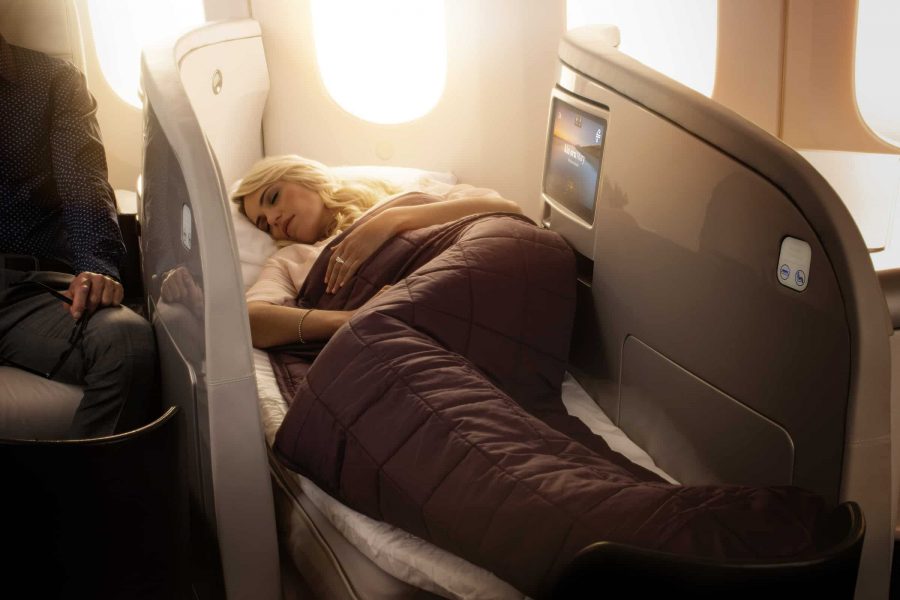 Air New Zealand's brilliant BusinessPremier
Air New Zealand will look to further develop its Google Assistant capability in the future, including introducing the ability to sign into a booking or Airpoints™ account to enable even more personalised responses.
The Google Assistant is available across devices, including on eligible Android 6.0+ and iPhones, Android TVs and smart speakers like Google Home (in Australia).
Air New Zealand has also made technological advances with its inflight WiFi capability across its international jet fleet, beginning with the 777-300 fleet in 2017. The launch is a trial initially in order to gather customer feedback to ensure it meets the needs of our customers before rolling it out across the entire international jet fleet.
Golan says the airline has been working closely with its partners to prepare for the launch of Inflight WiFi which will enable customers to access email, social media channels, web browsing and go shopping while travelling.
"We're launching Inflight WiFi as a trial initially in order to gather customer feedback and ensure it meets the needs of our customers before we roll it out across our international jet fleet," he says.
"The service will be available progressively with the installation of Inflight WiFi on our Boeing 777-300 fleet expected to be completed by June 2018 and our Boeing 777-200 fleet rolling out from April next year.
"The trial will not only test the technical aspects of the service, it will also gather feedback on pricing options. Going forward, customers will be able to choose to sign up for different timeframes and have the ability to pay in a variety of ways, including with Airpoints Dollars™, as we look to offer a best in class connected inflight experience.
"Looking ahead, we're keen to actively explore new content opportunities and will also make Air New Zealand's friendly chatbot, Oscar, available to help assist passengers to resolve any travel related questions during their journey," Golan says.