If it's adventure or a taste of the 'real' Indonesia you're seeking, the enclave of Nusa Dua in Bali is not for you. However, if you're after a family-friendly getaway with clean beaches and easy access – this is the place.
Nusa Dua is located around 12 kms from Denpasar Airport on the south-eastern side of Bali, known for cleaner beaches and a less frantic pace than other popular destinations such as Kuta, Seminyak and Canggu.
The Bali Tourism Development Corporation, owned by the Indonesian Government, operates the gated area of Nusa Dua which is home to nearly all the big name international resorts.
There are no warungs selling street food or hawkers plying tourists with sarongs and fake handbags, although all that's available a five-minute drive up the road in Benoa.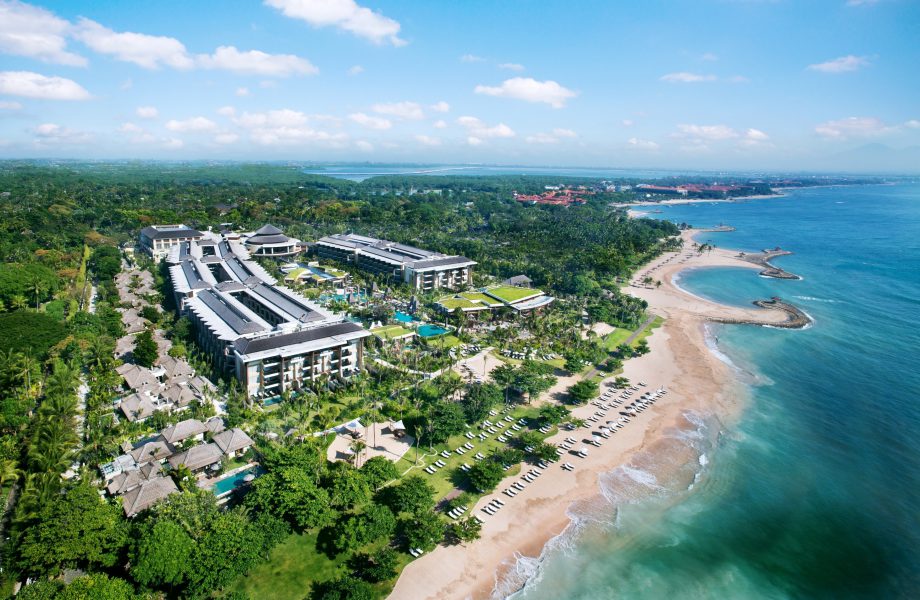 Location, location: Sofitel Bali Nusa Dua Beach Resort is on the ocean
Among the range of beachfront hotels is the Sofitel Bali Nusa Dua Beach Resort. Price wise it sits at the higher end of Bali's many accommodation options, but for Australian travellers, you get a lot of bang for your buck.
Check in occurs after what feels like an army of concierge staff descent to open car doors, swoop on baggage and welcome us. Having arrived early and with our bags taken care of we wander through the expansive grounds and decide on lunch and a swim at the Manarai Beach House, a fairly recent addition to the Sofitel built on the grounds of a former neighbouring resort.
Beach clubs have been steadily gaining in popularity in Bali since Ku De ta opened in Seminyak nearly 20 years ago and while Manarai is smaller than many of its peers what it lacks in size it more than makes up for in style.
Best of all, while Manarai I'm sure is a great place to party (traveling with young kids we wouldn't know), it's quiet and very kid-friendly during the day.
Cold beers, sushi and poke bowls later, our butler arrived to escort us to our room where we were greeted by welcome fruit and chocolates.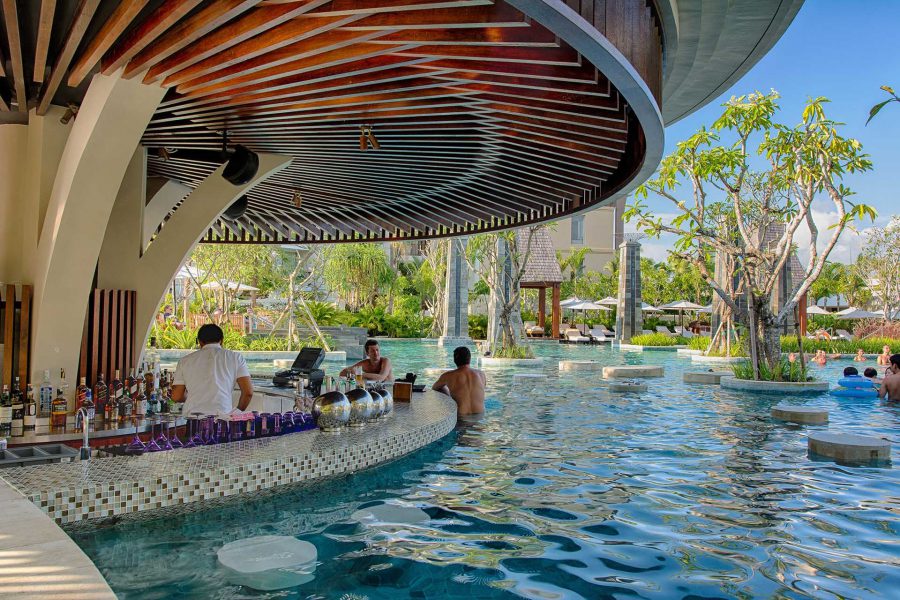 Here you'll find one of the best swim-up pool bars in Bali
Even more welcoming was the direct pool access; lagoons which creep through the resort allow guests in these upgraded rooms to swim to one of the many areas around the main pool area… choose from a swim up bar, or a smaller pool with slide for the kids.
They say when you're on a good thing to stick to it, so for dinner we returned to the restaurant at Manarai for one of the best meals of our 10 day trip through Bali. Food and alcohol (especially wine) prices are almost on par with Australia at any of the major resorts around Bali. In Nusa Dua there are plenty of cheaper options at Bali Collections, the decent-sized shopping precinct.
However we found the food there pretty hit and miss, so if you're determined to keep a handle on the purse strings and want to try some authentic local cuisine there are plenty of good quality and great value restaurants 2-3 kilometres north at Benoa, including the famous Bumbu Bali restaurant and cooking school.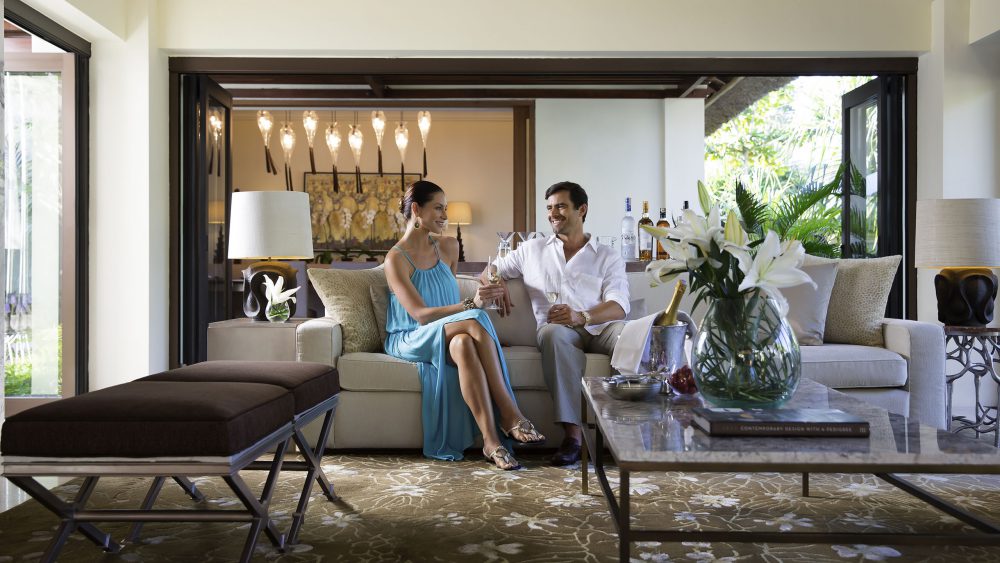 Find stylish rooms right across the hotel
After a restful night in the famous Sofitel beds, breakfast was an eye-watering buffet of Western and pan-Asian offerings before taking some of the hotel-provided bikes for a spin south down the Nusa Dua boardwalk. After so much exertion, a massage awaited at the cavernous So Spa, where the surrounds are as relaxing as the treatments.
Another swim at our new local, Manarai, and it was time to pack up and head to the airport. A car organised by the Sofitel (about AUD$25) saw us get to Denpasar in well under half an hour using the Bali Mandara Toll Road – if you're doing the same trip make sure your driver has an e-tag as the small additional expense can save you literally hours in travel time.
ESSENTIALS: GETTING THERE
The best way of getting to Bali in comfort and style.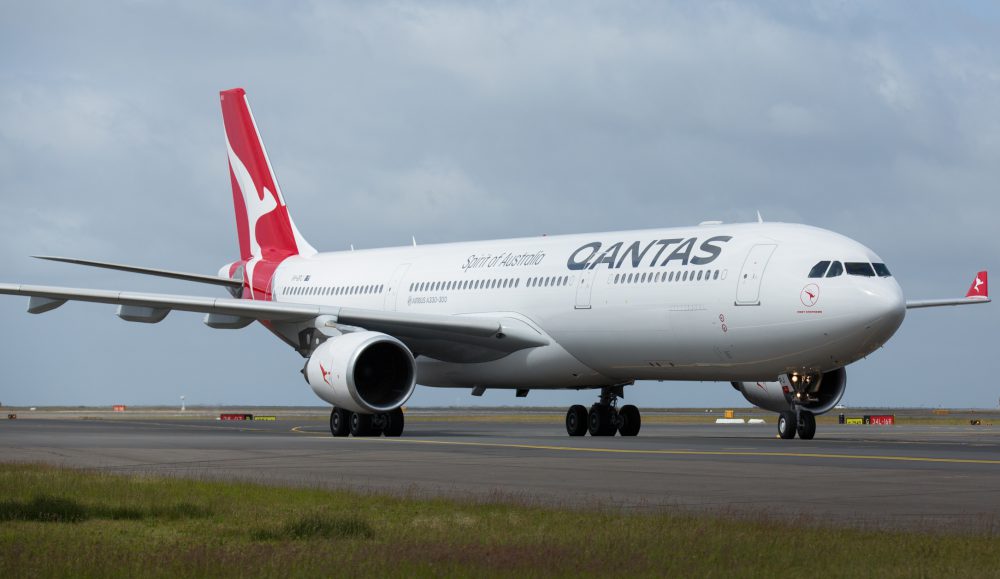 A Qantas Airbus A330-300
QANTAS
QANTAS flies direct to Denpasar from Sydney using two-class Airbus A330 aircraft fitted with the airline's new flatbed Business Class seats. Sister airline Jetstar also flies to Denpasar from Adelaide, Brisbane, Cairns, Darwin, Melbourne, Perth and Sydney.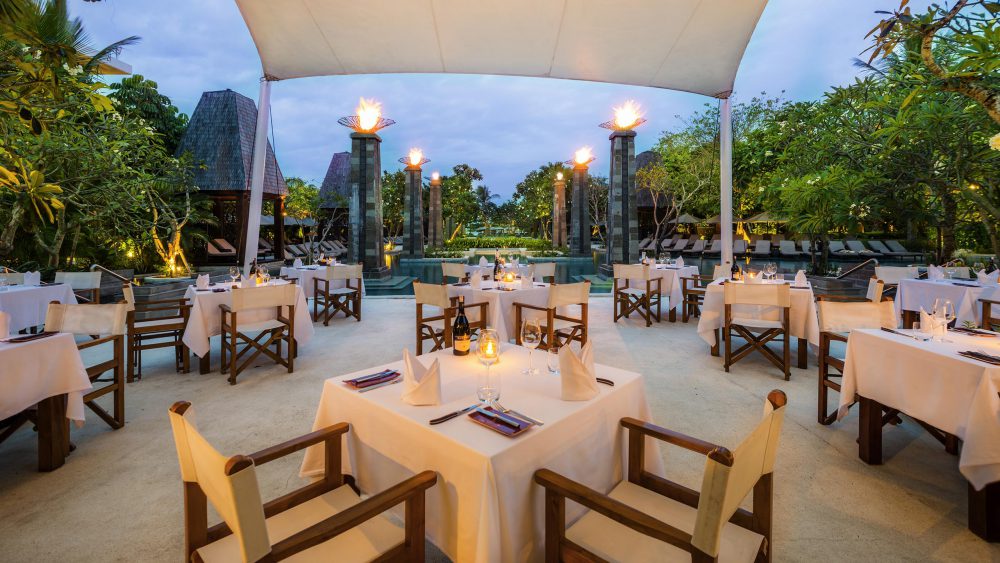 Romantic setting: Dining at the Sofitel Bali Nusa Dua Beach Resort
ESSENTIALS: HOTEL DETAILS
SOFITEL BALI NUSA DUA BEACH RESORT
Address: Benoa, South Kuta, Badung Regency, Bali 80363, Indonesia
Tel: +62 361 8492888
Website: www.accorhotels.com
Instagram: @sofitelbalinusadua